2012 MINI Highgate Special Edition Convertible Price - £20 665
2012 MINI Highgate is special edition convertible which is the third of the trio from special editions, standing next to MINI Baker Street and MINI Bayswater. It also continues the brand policy of taking the names of fashionable areas of London. The Highgate model is a sophisticated new version of the drop-top Convertible. Furthermore, this special edition MINI offers unique exterior and interior style, and even brings more fun and excitement. The car is finished in a metallic 'Iced Chocolate' body color. The fabric roof is in 'Silvertouched Truffle'. The appearance is improved by truffle bonnet stripes with blue edging. Midnight Black metallic or White Silver metallic paintwork can be specified as an option.
Next, the MINI Highgate sits on 17-inch 'Double Cross Turned' light-alloy wheels in a subtle aluminium color. The interior of the MINI is equipped with 'Dark Truffle' Lounge Leather seats with blue piping and contrasting stitching. In addition there s also included the famous Chili Pack, which is also filled with extras such as automatic air conditioning, Bluetooth and USB connectivity, multi-function steering wheel, multi-colored interior lights. More importantly it comes as a standard on the Highgate special edition. You can also see sun-touched Brushed Alloy detailing on the dashboard. The Chrome Line Interior and Exterior packages are also included. Of course, customers can add to the appeal of the MINI, according to their taste by further using the extensive options list of comfort, convenience, design and technology features.
The MINI Highgate is available with four engine options: the MINI Cooper (90 kW/122 hp), MINI Cooper S (135 kW/184 hp), MINI Cooper D (82 kW/112 hp) and MINI Cooper SD (105 kW/143 hp). All are linked to a six-speed manual gearbox as standard, with a six-speed automatic available as an option. The price of the 2012 MINI Cooper Highgate Convertible starts at £20 665.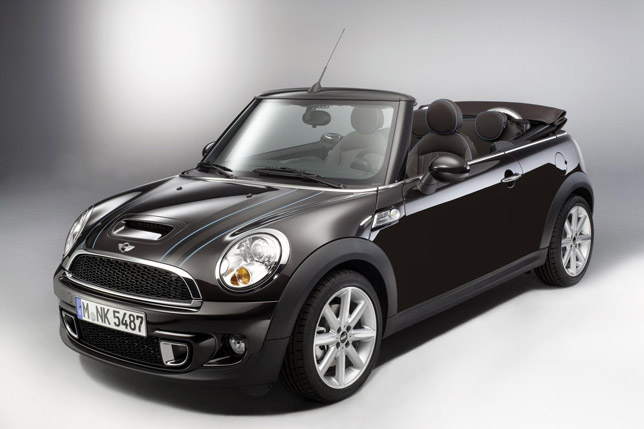 Source: MINI