2012 Peugeot 107
The new 2012 Peugeot 107 is now renewed, refreshed and even more modern and urban than ever. It shows subtle and sophisticated style, and it will undeniably attract more attention. The reasons for this are several. Firstly, the designers have put a lot of attention on its appeal without making any sacrifices in terms of its advantages when facing the constraints of city driving. Next, the car has become even more practical and fuel-efficient. Moreover the new 2012 Peugeot 107 is enriched with a regularly renewed range, special editions and new equipment, in order to keep up with customer expectations. Furthermore it will offer a great satisfaction above all through its maneuverability, driving pleasure and economy. The aim of the designers was to develop its advantages in an increasingly competitive segment.
As you can see they have featured new exterior style, which is subtle and sophisticated. For instance it is with completely redesigned front face but unchanged in dimensions, thus making the 107 adopt the new style of the Peugeot brand, cut as closely as possible to the mechanics, while retaining its compactness. Moreover the new and more curved bonnet incorporates the new identity of the brand, so the rib of the bonnet which frames the two-tone lion and the number plate repositioned in the centre of the lower front panel hint at its relationship with the 208.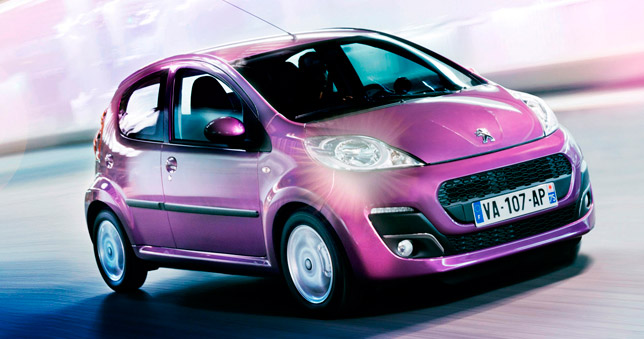 Furthermore the light units are more refined. At the front, they are extended and adopt a two-tone mask, echoing the color of the brand emblem situated on the bonnet. On the other hand at the rear they are adorned with a dark mask thus framing the lamps with a deep ruby color. In addition there is a new radiator grille, which is composed of honeycomb cells specific to the 107. It forms a fine and distinguished mouth, suspended by the body color that surrounds it. Next, the new lower front panel has contact cappings (one on the front face and the other two at the side). This makes it aesthetic and protective, particularly useful in city driving.
Adding further to its new style, the 2012 Peugeot 107 adopts a new visual signature at the lower front panel by means of LED day running lamps which emphasize the side protectors, and fog lamps animated by a chromed bead. Of course all of these style components were designed with the utmost care. Moreover the range of colors sees the addition of an exclusive and provocative new "Plum" color. The interior has new equipment and color schemes: "Mistral" interior color scheme, the new "Manhattan" seat upholstery and the two material door and dashboard trims. Furthermore there is also new comfort equipment which features CD audio system with two additional speakers as standard or as an option according to the level of finish; new PC Bluetooth CD audio system available as an option, combined with two additional speakers; USB, MP3 and Bluetooth connections; new steering wheel combined with a new gear lever knob, both leather trimmed, available as standard or as an option.
The 2012 Peugeot 107 is available in 3 and 5 door versions and with 2 different engines: 1.0i 5-speed manual and 1.0i 5-speed two-tronic manual. Last but not least, the car is designed to be environmentally efficient. The 107 lowers its levels of CO2 emissions still further to 99 and 104 g/km respectively for the manual and two-tronic gearboxes. Its running costs are also improved with fuel consumption reduced to 4.3 and 4.5 l per 100km (respectively for the manual and two-tronic gearboxes).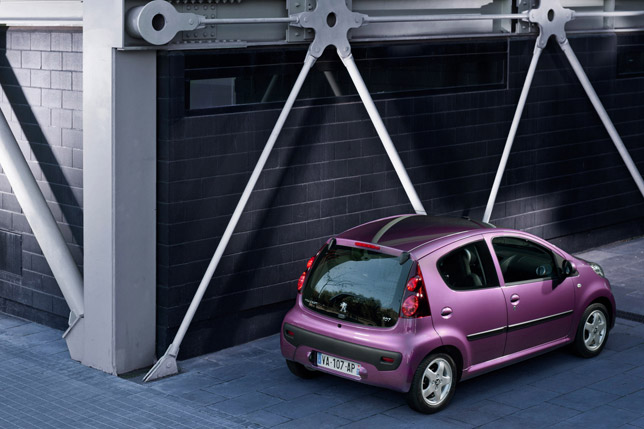 In addition to the good news for this new 2012 Peugeot 107 there are more and they are concerning a new very feminine special edition of the version called ENVY, which will be available at the launch in March 2012. This awesome, modern and glamorous version is adorned with either the new "Plum" color or "Caldera Black" and bears special decorations with a cherry blossom branch motif. In details there are stickers on the rear door, the bonnet and the tailgate, a "Plum" color embroidered and braided mat and a rev counter central decoration. Moreover aluminum door sills and a badge give a further touch of refinement. A style line taking up the cherry blossom branch motif is also available. Additionally it has a clever handbag pocket, ideal for organizing your belongings and changing handbag without forgetting anything, as well as a very practical handbag hook, which is extremely useful for keeping your. There are several accessories developed especially for the ENVY 107: alloy wheels, a brushed aluminum gear lever knob, chromed effect door sills or mats embroidered with "107" give a touch of elegance and a distinctive character, a retractable navigation system (which has a connection for an iPhone or iPod), side moldings, which can protect the bodywork against urban impacts. For leisure pursuits, the 107 offers various roof boxes and roof bars for transporting bicycles, skis and numerous other accessories.
Source: Peugeot