2012 Peugeot 508 RXH
Peugeot has announced the new 508 RXH, which boasts styling elegance, high-level build quality and attention to detail.
The exterior features LED lights, "floating" grille, interesting fog lights and aggressive front end. Finally, Peugeot let go the "big smile", which looked ridiculous. Still, the 508 looks rather normal. It doesn't have the spirit of the previous models.
Otherwise, the 508 RXH benefits from special features with distinctive colours and luxurious materials, like the premium quality interior and upholstery. The top-of-range model comes with Open & Go  Keyless system, electric front seats, head up display, 18" wheels, panoramic glass roof, dark-tinted acoustic laminated side windows, latest generation audio and satellite navigation unit as standard.
The 508 RXH is powered by a 2.0-litre HDi HYbrid4 drive train, which offers 200BHP and 450Nm. The power is put on the road through four-wheel drive. Furthermore, it opens up new perspectives in the segment, offering a 100% electric mode (Zero Emissions), ideal for driving in town and for reducing consumption in the Combined Cycle to 67.2 mpg, with emissions of 109 g/km of CO2
The 508 RXH will be unveiled as a world premiere at the Frankfurt International Motor Show in September 2011, and will be on sale in Spring 2012.
If we get used to the new vision of Peugeot, the 508 RXH will be rather good choice for everyday car with its nice qualities. Still, we have to wait and see the price, which according to us won't be low at all.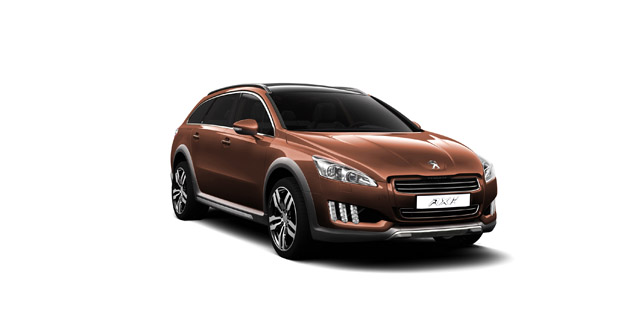 Source: Peugeot