2012 Ssang Yong Korando Price
New for Ssang Yong line up is the Korando crossover.  The superbly equipped Korando uses SsangYong's first monocoque platform and offers a perfect blend of competent off road handling with on road refinement. And can you imagine that the price starts only from £16,995.  The benefits of such car are countless. It has the practicality of a 4x4/SUV, the accessibility of a family hatchback, the contemporary looking Korando. Moreover this vehicle has the capability to go from a muddy campsite to the motorway or an icy country lane to the urban school run, and everything is in complete comfort for the convenience of the driver and the passengers.
First of all what is important about Korando is that it has been designed as a towing vehicle. All models are powered by an advanced 173bhp (129 kW) 2.0 litre four cylinder turbo diesel engine producing 360Nm (265 lb-ft) of torque with CO2 emissions from only 157g/km ensuring smooth and strong acceleration no matter what you're towing.
What is more here is that the four wheel drive Korando EX also has an all wheel drive lock function. It functions when low speed grip and control is needed, such as when driving up a slippery track or off a sodden field dragging a caravan or horsebox.
Korando can pull almost 100% of its own gross vehicle weight.  The reason for this is not only the strength of the engine, but also Korando's inherent stability and grip. This combination leads to solid, dependable pulling power no matter what the conditions are.
The customer can chose between a six speed manual or six speed automatic transmission. In addition, buyers can opt for S or ES trim in their front wheel drive Korando or top of the range EX specification in four wheel drive models.  What you'll love about this vehicle is that it comes entirely equipped with cruise control, ESP with Hill Start Assist and reverse parking sensors as standard. On the other hand the ES comes with a sunroof, climate control, leather upholstery and heated front and rear seats, so that all the needs of the driver and the passenger can be met.
All models are available with a detachable Witter tow bar and electrics at an optional cost of £602.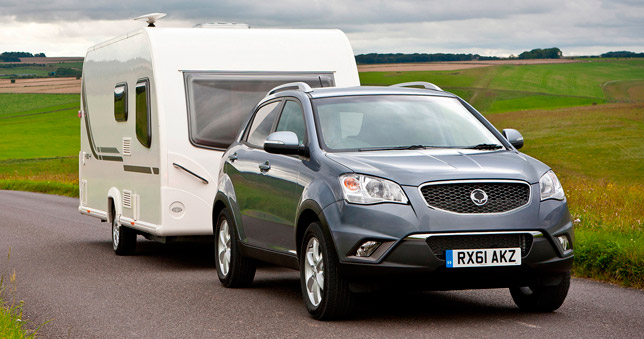 Korando
Specification
S
ES
ES
EX
EX
Transmission
Manual
Manual
Auto
Manual
Auto
2WD
2WD
2WD
4WD
4WD
On the road price
£16,995
£19,495
£20,945
£21,445
£22,995
Source: SsangYong