2012 Toyota Avensis Price - £18 450
Toyota has revealed the full price list for the new 2012 Avensis. It comes in three different trim levels - T2, TR and T Spirit with range starting at £18 450 for the 1.8 Valvematic T2 saloon with 6-speed manual transmission.
"This is great news for Burnaston, we are proud to be starting work on the new Avensis, a car that is central to Toyota's European strategy and a key model for the UK. British-built, and with petrol engines sourced from Toyota's Deeside factory plus ultra-efficient diesels, it is a stronger market contender than ever before.", said Tony Walker, Toyota Manufacturing UK Deputy Managing Director.
Every grade in the new Avensis range is revised to deliver greater value for money through higher levels of standard equipment and quality.
All models have integral daytime running light, cabin trims and upholstery have been upgraded with new finishes, designs and colour choices.
Check out the full price list, below!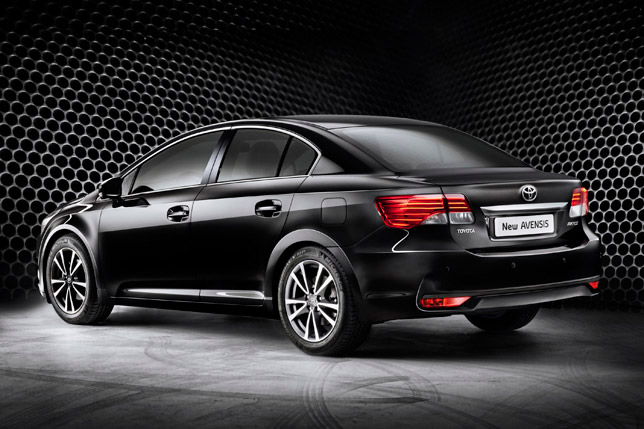 | | | | |
| --- | --- | --- | --- |
| GRADE | BODY | ENGINE & TRANSMISSION | OTR PRICE |
| T2 | Saloon | 1.8 Valvematic 6MT | £18,450 |
| T2 | Saloon | 1.8 Valvematic MDS | £19,470 |
| T2 | Tourer | 1.8 Valvematic 6MT | £19,485 |
| T2 | Tourer | 1.8 Valvematic MDS | £20,505 |
| T2 | Saloon | 2.0 D-4D 6MT | £19,445 |
| T2 | Tourer | 2.0 D-4D 6MT | £20,480 |
| TR | Saloon | 1.8 Valvematic 6MT | £20,545 |
| TR | Saloon | 1.8 Valvematic MDS | £21,565 |
| TR | Tourer | 1.8 Valvematic 6MT | £21,580 |
| TR | Tourer | 1.8 Valvematic MDS | £22,600 |
| TR | Saloon | 2.0 D-4D 6MT | £21,525 |
| TR | Tourer | 2.0 D-4D 6MT | £22,560 |
| TR | Saloon | 2.2 D-4D 150 6MT | £22,485 |
| TR | Tourer | 2.2 D-4D 150 6MT | £23,520 |
| TR | Saloon | 2.2 D-CAT 150 6AT | £23,875 |
| TR | Tourer | 2.2 D-CAT 150 6AT | £24,910 |
| T4 | Saloon | 1.8 Valvematic 6MT | £22,320 |
| T4 | Saloon | 1.8 Valvematic MDS | £23,340 |
| T4 | Tourer | 1.8 Valvematic 6MT | £23,355 |
| T4 | Tourer | 1.8 Valvematic MDS | £24,375 |
| T4 | Saloon | 2.0 D-4D 6MT | £23,300 |
| T4 | Tourer | 2.0 D-4D 6MT | £24,355 |
| T4 | Saloon | 2.2 D-4D 150 6MT | £24,260 |
| T4 | Tourer | 2.2 D-4D 150 6MT | £25,295 |
| T4 | Saloon | 2.2 D-CAT 150 6AT | £25,365 |
| T4 | Tourer | 2.2 D-CAT 150 6AT | £26,400 |
| T Spirit | Saloon | 2.0 D-4D 6MT | £25,145 |
| T Spirit | Tourer | 2.0 D-4D 6MT | £26,825 |
| T Spirit | Saloon | 2.2 D-4D 150 6MT | £26,105 |
| T Spirit | Tourer | 2.2 D-4D 150 6MT | £27,785 |
| T Spirit | Saloon | 2.2 D-CAT 150 6AT | £27,210 |
| T Spirit | Tourer | 2.2 D-CAT 150 6AT | £28,885 |
Source: Toyota