2012 Toyota BTCC Race Cars
Toyota has announced their line-up for the new season. The Dunlop MSA British Touring Car Championship begins this weekend and the manufacturer will take place in it with independent racers Frank Wrathall, Tony Hughes and Adam Morgan.
The new race car is based on the latest update of the British-built road-going Avensis, introduced late last year. Like its showroom sister, the race car is produced at Toyota's Burnaston factory in Derbyshire, making it a very British contender in the country's most popular national racing championship.
The exterior is slightly changed by restyling the front, a fresh look at engine installation and cooling, and has also helped them improve chassis stiffness.
Dynojet's Wrathall is hoping to build on the dramatic late-season form he showed in 2011 and believes the off-season works carried out in the team's Lancashire workshops will make all the difference.
"The developments we have made will allow us to move on to the next level," said the 25-year-old from Garstang, last season's Rookie of the Year.", he said.
"I hope it will mean that we can be regularly fighting for the podium. That is my aim, but of course the opposition will be strong and everyone else will be out to do the same thing.", Mr. Wrathall added.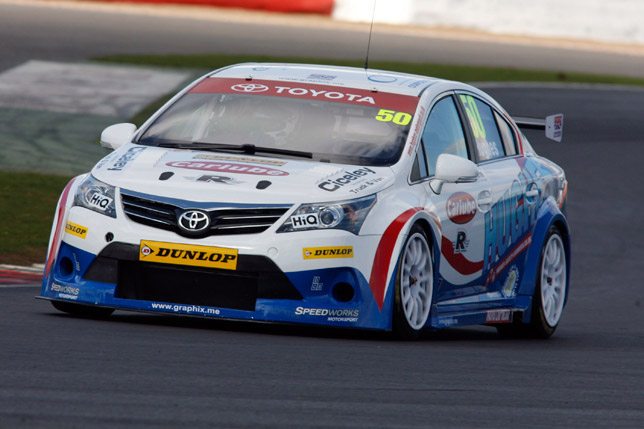 Frank scored four podium results in 2011, the best of them a second, and three Independents Trophy wins on his way to championship 12th. His sterling efforts have been recognised by the British Racing Drivers' Club, which has awarded him SuperStar status for the coming year.
The newest recruit to the Toyota ranks is 23-year-old Adam Morgan, who won his place on the BTCC grid thanks to his victory in the Ginetta Supercup – the richest prize in British motorsport, worth in excess of £200 000.
Both the Speedworks Toyotas are powered by the 2-litre 'spec' engine developed by BTCC organiser TOCA.
This year's Dunlop MSA British Touring Car Championship starts and finishes at the Brands Hatch circuit in Kent, and between those 1 April and 21 October events will visit the Donington Park, Thruxton, Oulton Park, Croft, Snetterton, Knockhill, Rockingham and Silverstone circuits on its round-Britain tour. All 30 races will be screened live, with a minimum of six hours on ITV4 and ITV4 HD from each meeting, simultaneously broadcast on the itv.com website.
Source: Toyota