2012 Toyota RAV4 EV Revealed
As promised, Toyota have unveiled the RAV4 EV. The event took place at the 26th Electric Vehicle Symposium in Los Angeles. The hopes are high as some expect it to be no less impressive than the current petrol RAV4 V6 in terms of "driving performance, dynamics and cargo capacity. That's amibtious.
The drivetrain inside it can provide power for 160 km once every charge. After that, you find a 240V/40A charger and "brim it up" fir six hours. Pretty much all the bits underneath have been made by Tesla. It took both companies 22 months to achieve this but eventually, we end up with the "only all-electric SUV on the market"
The torquey electricity powers goes to the front wheels in two manners – Sport and Normal. While on the former, the RAV4 can go from 0 to 60 mph (96.6 km/h) in 7 seconds dead while the top speed climbs up to 160 km. A more leisurely way to drive up to the grocer's can be the Normal mode - 0-60 mph in 8.6 seconds and 137 km/h at best.
The maximum output of power has been estimated to be 115kW @ 2,800 rpm. The heavy battery pack buried deep down inside the car benefits the center of gravity while the electric motor purrs in a very serene way. Surrisingly, the RAV4 body is also slippery – a 0.30 drag coefficient is the very best among SUV's apparently.
In terms of body design, there are some slight deviations from the standard look of the Toyota RAV4. The front bumper, upper and lower grille, side mirrors, rear spoiler and under body shape have all been restyled in favor of aerodynamics. Sales are expected to start somewhere around during the late summer of 2012. Bob Carter, group vice president and general manager of Toyota in the United States, hopes that:
"...the RAV4 EV will attract sophisticated early technology adopters, much like the first-generation Prius,"
We'll have to see about that.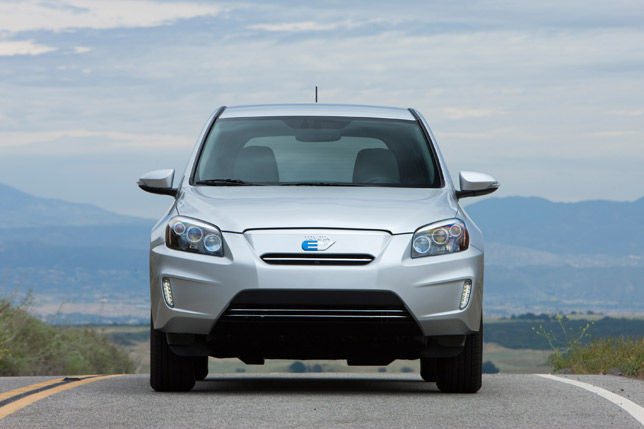 Source: Toyota