2012MY Ford Fiesta
Ford's top-selling supermini Fiesta has exclusively expanded its range of personalization options for 2012MY via three new exciting packages – two interior packages and one exterior package.
Building on the ride's successful current personalization options, the new packs lend the 2012MY Ford Fiesta more premium status, sporty look and individual character.
Sheryl Connelly, manager of Ford Global Trends and Futuring, shared:  "The appeal of accessories reflects on other trends in society, including the desire to personalize phones, computers and clothing. People don't customize to stand out from the crowd; they do it to create a more meaningful connection."
The 2012 Ford Fiesta's all-new premium sport appearance package draws inspiration by the European Focus RS, showcasing Tuxedo Black paint, and several blacked-out components, including: side mirrors, headlamps, grille surround, license plate header and upper rear hatch spoiler. In addition to these sleek features, the package also boasts 16-inch polished lightweight alloys.
For the cabin, the 2012MY Fiesta's new premium interior pack offers contrasting interior accent colors in Oxford White or Race Red, smartly positioned throughout the cockpit of the famous supermini. Contrast shades are used on the center stack bezel, door panels and vent trim rings. The two-tone leather-wrapped steering wheel also offers a color-matched insert with contrast stitching, while the shift knob comes in black leather for even greater distinction.
Moreover, an interior light kit is also available for the 2012 Fiesta model, featuring one LED-generated light in the cup-holder area and a light bar in the footwells. Seven colors for the LED units can be easily changed by the owners according to their mood and vision for perfect ambience.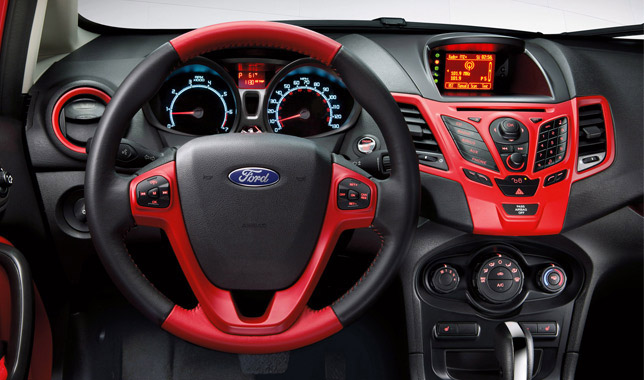 Source: Ford