2013 Alfa Romeo MiTo Quadrifoglio Verde SBK Limited Edition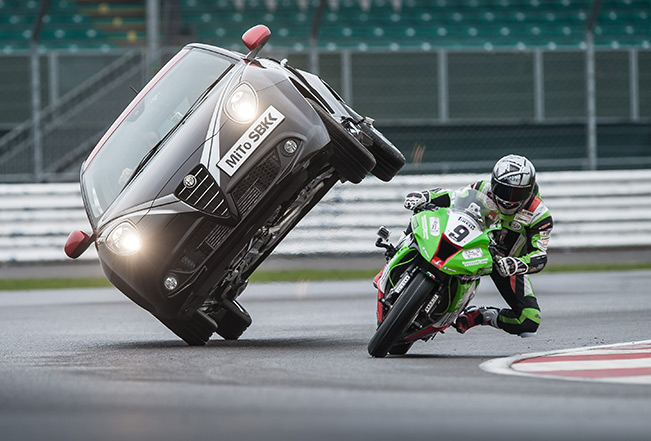 Alfa Romeo has introduced the MiTo Quadrifoglio Verde SBK Limited Edition at the Paris Motor Show. Currently only 28 examples are destined for UK.
To mark the occasion, Alfa Romeo coordinated a thrilling, world first driving dare involving precision driver Paul Swift and British Superbike rider Chris 'The Stalker' Walker. Four wheels met two at Silverstone circuit in a challenging manoeuvre with Chris on a Kawasaki ZX-10R Ninja British Superbike 'undertaking' Paul in the Alfa MiTo SBK with the car up on two wheels. As Paul took the Alfa MiTo SBK around the sweeping Brooklands corner, Chris throttled in on the inside line, building up enough speed to get the bike over and, for a brief moment, go under the chassis of the Alfa MiTo SBK before speeding out the other side to safety.
The MiTo Quadrifoglio Verde SBK Limited Edition comes with a two-tone exterior with 18" alloy wheels. It also features Brembo brakes and an Alfa Active Suspension with adjustable shock absorbers.
The interior has minor changes - Sabelt seats, Alcantara upholstery and an individually-numbered plaque.
Among the extras, you will find aluminum pedals, dual-zone climate control and the Blue&Me connectivity system.
The small car is powered by a 1.4 liter Multi-Air petrol with 170HP (125 kW). 0-100 km/h in 7 seconds and an average fuel consumption of just 4.8 litres / 100 km.
Only 28 MiTo Quadrifoglio Verde SBK Editions will be offered in the United Kingdom. The pricing start from £21,595.
Source: Alfa Romeo