2013 BMW 6 Series GRAN COUPE
The third model in the BMW 6 Series line-up is offered as Convertible and Coupe, and more importantly it is the first four-door Coupe in the history of the brand. Of course it keeps the athletic elegance of the car's outlook and adds more to its appeal. Furthermore in it has been included powerful engines and sophisticated chassis technology, which in combination are producing an impressively dynamic driving experience. In addition the BMW 6 Series Gran Coupe makes its mark with exclusive equipment features and a level of practicality unmatched by its premium four-door Coupe rivals.
The first thing to be mentioned about the BMW 6 Series Gran Coupe is the design, which mixes the athletic elegance and an exclusive appearance. With a sporty package and outstanding look it will make an impression on everyone. Brand new for these series is the car's four-door construction. Moreover it has a sweeping, powerfully contoured bonnet, a long wheelbase adding more to the vehicle elegance. In addition, its low height and a roof line that flows in a shallow arc into the rear allow the BMW 6 Series Gran Coupe to set a new aesthetic benchmark for four-door cars.
The BMW 6 Series Gran Coupe comes with 4+1 seats, thus making it with a 113-millimetre longer wheelbase than the BMW 6 Series Coupe. Additionally, a through-loading facility and folding rear seat backrests give a further improvement to practicality and increase boot capacity from 460 litres to 1,265 litres.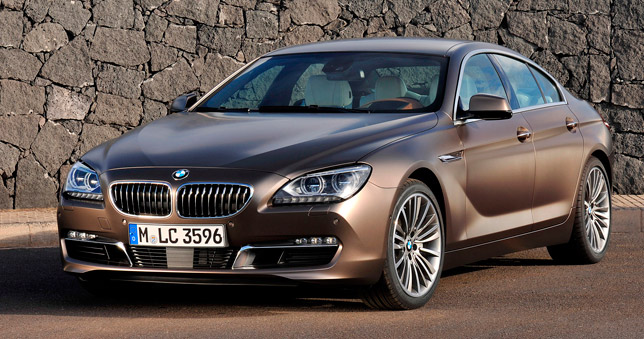 Moreover the BMW TwinPower Turbo engines are making the car more sporty and efficient. The six-cylinder in-line petrol engine in the BMW 640i Gran Coupe develops 235 kW/320 hp, while the straight-six diesel powering the BMW 640d Gran Coupe serves up 230 kW/313 hp. More importantly the BMW 650i Gran Coupe comes with its 330 kW/450 hp V8 powerplant. The BMW TwinPower Turbo technology of the new-generation eight-cylinder unit also includes VALVETRONIC fully variable valve timing. To go further into details the new technology package increases the maximum power to 330 kW/450 hp, which is available between 5,500 and 6,000 rpm, and maximum torque to 650 NM (479 lb-ft) between 2,000 and 4,500 rpm. Furthermore this affects of course the fuel consumption and emissions performance in a positive manner. The BMW 650i Gran Coupe accelerates from 0 to 100 km/h (62 mph) in 4.6 seconds and its average fuel consumption lies between 8.6 and 8.8 litres per 100 kilometres (32.1 – 32.9 mpg imp), with CO2 emissions of between 199 and 206 grams per kilometer. All variants of the engine work with an eight-speed sports automatic transmission, while measures such as the Auto Start-Stop function and ECO PRO mode, thus making the fuel consumption less. This latter mode is activated with the help of the Driving Experience Control switch thus modifying the engine management characteristics, the accelerator mapping and the shift characteristics of the automatic transmission, and supporting a low-rpm driving style for optimized fuel consumption.
Furthermore the chassis technology built into the BMW 6 Series Gran Coupe includes a double-wishbone front axle, an integral rear axle, Electric Power Steering and a high-performance braking system. Additionally there is a Servotronic function and Dynamic Damper Control, which come as standard.  Uniquely in this class, the BMW 6 Series Gran Coupe can also be optionally equipped with Integral Active Steering, which not only steers the front wheels and provides speed-sensitive power assistance but also steers the rear wheels.
To continue with the extras, the equipment relies on exclusive features and innovations in technology. There has been provided a high-quality and extensive range of standard equipment, which includes electrically adjustable leather seats, 2-zone automatic climate control, xenon headlights, 18-inch light-alloy wheels, the Radio Professional with HiFi loudspeaker system, and automatically dimming exterior and rear-view mirrors. If you want to make the car even more individual then there is a selection of exclusive options such as adaptive LED headlights and Bang & Olufsen High-End Surround Sound System.
The vehicle will be produced at BMW Plant Dingolfing alongside the BMW 6 Series Coupe and Convertible, BMW 5 Series and BMW 7 Series Luxury Sedan.
Source: BMW