2013 Hyundai Equus
Hyundai's flagship, executive battle cruiser is born again for the year 2013. Hyundai Equus - the biggest, most powerful, safest and most equipped car, the company has ever made. There will be two trim levels (Signature and Ultimate) but no matter how you look at it, both of them are bundled with mind-boggling technology and it's hard to tell them apart.
Both will unconditionally get the bulky 5.0-liter Tau DOHC V8 that sends 429 hp and 376 lb-ft of torque through a Hyundai-developed 8-speed automatic gearbox. That power then is transferred to the rear wheels which is a big thing for Hyundai. Because of the Dual Continuously Variable Valve Timing and the high-pressure direct injection system, the economy is good...ish as well – 15 mph city, 23 mpg highway and 18 mpg combined.
Weight distribution is said to be 52:48 and thanks to a Continuous (lots of continuity with the Equus) Damping Control unit, and road surface can be tackled with the exact level of stiffness and rigidity. Then there's the Vehicle Stability Management which controls a full bag of features (the ESC, the electronic parking brake and the smart cruise control) thus keeping you out of the ditch. Don't think however, that the Hyundai Equus engineers went easy on the occupant safety tech. Not even slightly. You get dual airbags at the front, side airbags for both the front and the back as well as curtain ones on the length of the roof and a driver's knee airbag. The seat belts strap on tightly when the Equus senses an imminent collision while the headrests ensure your head is where it should be – on your shoulders. A camera on the front grille (Ultimate) monitors for objects when parking and sends the data to an LCD monitor inside. The bootlid camera at the back comes as standard.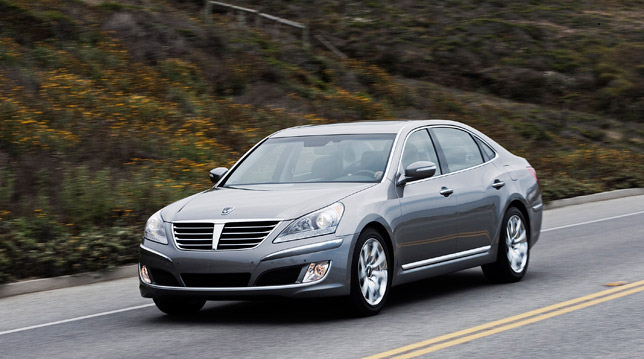 As for luxuries, the Signature lists more than 40 features. Among them, there's a 608-watt Lexicon 7.1 Discrete surround-sound audio system with 17 speakers, a massaging driver seat, a lane departure system, a set of 19-inch chromed alloy wheels and a Navigation system with DIS and multimedia controller.
The Ultimate actually looses an occupant space at the back but the remaining two get individual reclining and massaging seats, tinted rear windows an entertainment system for the back and....a refrigerator. This one is obviously for the more bossy type of people. The ones that plan to spend a great portion of their time being driven around rather than driving themselves. But then again, the concept behind the Equus is just that – being executive...at an affordable price (which is still undisclosed).
Source: Hyundai