2013 Hyundai ix35 Fuel Cell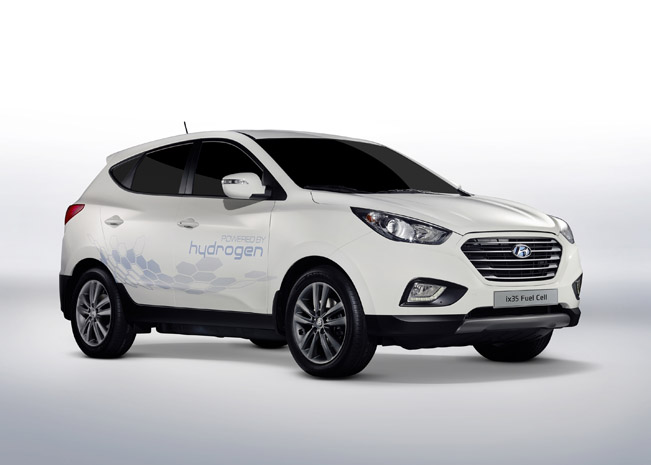 Hyundai has announced the 2013 ix35 Fuel Cell, which has been selected for the second consecutive year by the European Commission-backed Fuel Cells and Hydrogen Joint Undertaking (FCH JU) to demonstrate the real-world benefits of hydrogen fuel cell technology.
The world's first production fuel cell electric vehicle, the ix35 Fuel Cell, will be made available throughout 2013 to members of the European Parliament, European Commission officials and other policymakers for test drives in Brussels, Belgium.
"We are delighted that the FCH JU has chosen the ix35 Fuel Cell as its European demonstration vehicle and look forward to working with them to promote the benefits of hydrogen and fuel cell technology.  We are sure that the leading policymakers and opinion-formers who drive this remarkable vehicle will find its ability to deliver performance and comfort without compromising its eco-friendly nature withtailpipe emissions highly compelling.", commented President of Hyundai MotorEurope B.K. Rimsaid.
Using Hyundai's proprietary technology, the ix35 Fuel Cell's fuel cell stack converts hydrogen into electricity, which turns the vehicle's motor. The only emission generated is water.
The ix35 Fuel Cell can be refuelled with hydrogen in only a few minutes. 0-100 km/h in 12.5 seconds and a top speed of 160 km/h (100 mph). It can travel up to 594 km (369 miles) on a single tank of fuel.
Hyundai ix35 Fuel Cell specifications
| | |
| --- | --- |
| Length | 4410 mm |
| Width | 1820 mm |
| Height | 1655 mm |
| Driving range on one fill-up | 594 km |
| Vehicle efficiency | 0.95 kg H2 / 100 km |
| Top speed | 160 km/h |
| Acceleration, 0 to 100 km/h | 12.5 seconds |
| Fuel cell output power | 100 kW (136 ps) |
| Energy storage system | 24 kW lithium-ion polymer battery |
| Fuel | Hydrogen (700 bar, 5.6 kg) |
| Exhaust gas | Water vapour |
Source: Hyundai