2013 Mazda CX-5 Full Specification
Mazda will reveal the new CX-5 at the 42nd Tokyo Motor Show alongside with the Takeri Concept. The SUV adopts adopt the new KODO — Soul of Motion design theme in addition to the full range of Mazda's breakthrough SKYACTIV Technology.
Developed around SKYACTIV Technology — including all-new petrol and diesel engines, manual and automatic transmissions, bodyshell and chassis — the CX-5 is engineered to deliver precise responses and a high-quality, rewarding ride matched with outstanding environmental and safety performance.
The new CX-5 is the first production model powered by the new-generation, highly-efficient SKYACTIV-D engine. In combination with the SKYACTIV-Drive 6-speed automatic transmission and i-stop idling stop system, SKYACTIV-D realises unprecedented levels of performance to deliver matchless driving pleasure to all customers, along with excellent environmental and safety performance. Despite the exhilaration of the driving experience, CX-5 also offers outstanding fuel economy. Along with its grand-touring performance, this allows for truly enjoyable long-distance driving with confidence and peace of mind.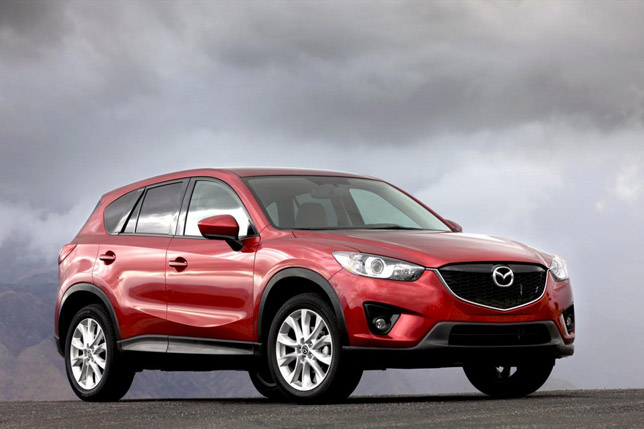 CX-5 will be introduced to the Japanese market in Spring 2012, further evolving the hallmark Zoom-Zoom driving pleasure that Mazda has pursued over many years, and heralding the new era of Mazda vehicles.
"We aimed to develop a vehicle with a long-term appeal that would delight owners and make them proud for years to come. I think that these were the most important values we had to embody in the CX-5. We wanted to deliver the best of all worlds in order to suit the various lifestyles and life stages of our customers, and satisfy their high expectations over the long term. Specifically, we focused on providing pleasure through the CX-5's appearance, its insightful functionality, its precise handling, and its desirability. By aiming to achieve the ideal in each area, we also aimed for driving pleasure.", commented CX-5 Program Manager, Hideaki Tanaka.
Check out the full specs, below!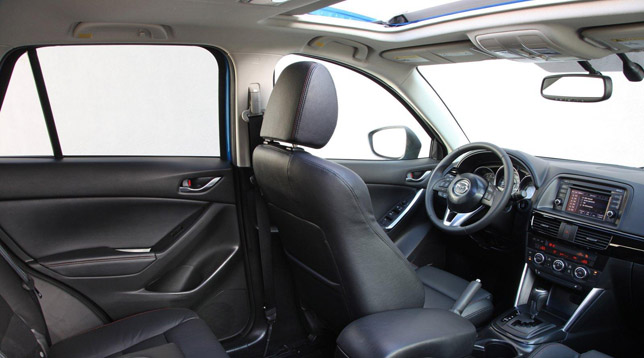 Main features of the Mazda CX-5
The first incarnation of 'KODO — Soul of Motion'
Following the Mazda MINAGI concept car that was unveiled at the Geneva Motor Show in March this year, the CX-5 becomes the first production model to feature Mazda's new design theme, 'KODO — Soul of Motion.' Chief Designer, Masashi Nakayama says:
"With the CX-5, our focus was on expressing a strong sense of vitality and agility. We looked at footage of cheetahs; their agile footwork and how they use their entire body as a spring to accelerate rapidly and change their direction instantly. They emanate great energy throughout their entire body. Inspired by their efficient yet beautiful movements, we aimed to push the SUV appearance to new levels with KODO design language."
The exterior design features bold styling that simultaneously expresses SUV-like solidity and functionality with Mazda's characteristic sense of vitality and agility. Inside, Mazda created a driver-oriented cabin with solid styling that reflects the CX-5's strength and high rigidity.
Exterior
Front view: a new Mazda family face centred on 'signature wings' expresses strength and depth.
Rear view: the contrast of prominent rear bumpers and taut rear end conveys toughness and grace that underline its athletic form.
Side view: the prominent front bumpers and sculptured body sides accentuate a sense of power which suggests powerful muscles.
The exterior design also contributes to excellent aerodynamics and a quiet cabin.
Interior
The driver's side, especially the instrument binnacle, has a deep, longitudinally stretched design that resembles a cockpit and produces a sense of forward momentum. The detailed, high-quality instrument design raises the driver's anticipation for the journey ahead.
On the passenger side, the dashboard looks and feels solid, with a horizontal design that generates a sense of security.
New soft-touch materials are adopted for the instrument panel and door trim, areas of the cabin that are most often seen and touched.Parts that are used most often, like the steering wheel spokes and inner door handles, have a satin chrome finish, which enhances the high-quality feel of the interior.
Functionality
Concentrate on the essentials to maximise useable space
Highly functional packaging created by a human-centred concept
The development team thoroughly researched what features are needed to deliver comfort and convenience, and focused on providing flexibility that drivers and passengers can enjoy with ease. By thoroughly evaluating and discarding elements of the design that looked convenient but were in fact difficult to use, and eliminating forms and shapes that hindered movement, the development team created a comfortable and user-friendly interior with highly efficient use of space and intelligent functionality. Additionally, the human-machine interface (HMI) presents information in an intuitive and easy-to-understand way that can be read in an instant, minimising the driver's eye movement and creating a cockpit environment that aids driver concentration.
Spacious, practical and smart:
The 2,700mm wheelbase, one of the segment's longest*1, enabled streamlined styling and a comfortable cabin.
Class-leading*1 rear seat legroom of 997mm. Spacious rear seats in which adult passengers can ride in comfort with ample knee room.
503 litres of useable luggage space (VDA, including a sub boot) is maximised by removing protrusions.
Smart, easy-to-use KARAKURI functionality. The world's first*2 40:20:40 split independent rear seats with a remote fold-down function. The rear centre seat creates a large flat luggage space when folded down. The tonneau cover automatically lifts up and down as the rear tailgate is opened and closed.
As well as comfortably accommodating two adults, the 40:20:40 split rear seats enable long objects to be loaded by folding the centre seat down flat, even with two child seats installed on both sides. The rear seats can be folded down remotely with levers located at the back of the luggage area.
CX-5 provides generous storage capacity demanded of an SUV, including a large open space in the centre console that can hold all sorts of items, and front and rear door pockets large enough to take a 1-litre bottle.
The best way to listen to your favourite music in the Mazda CX-5 is on a BOSE® surround-sound system — with a new-generation energy-efficient amplifier and subwoofer — available as an option.
Dynamic Performance
Mazda aimed for predictable and responsive handling, for a more refined and pleasurable driving experience
-Full implementation of SKYACTIV Technology
The key for the evolution of driving enjoyment is dynamic performance. To enhance dynamic performance, Mazda focused particularly on the enjoyment of predictable and responsive handling: in other words, Mazda concentrated on delivering performance to ensure that the car will move exactly as the driver anticipates. The new CX-5 fully implements Mazda's proprietary SKYACTIV Technology, and through a person-centric approach and the optimisation of the driving environment, Mazda has significantly raised the bar for predictable and responsive handling.
Dynamics developed based on person-centric thinking
Mazda engineers worked to enhance the field-of-view and visibility to maximise ease-of-use in every interface between car and driver, including steering and pedals. This was not just in terms of vehicle behaviour, but also from the perspective of how the driver feels,
In particular, Mazda considered it important to remove any non-desirable car behaviour that might impede the enjoyment of predictable handling, and eliminate the need for corrective driving inputs. To achieve this, the engineers thoroughly analysed the entire process of how the vehicle responds and provides feedback to the driver's intentions and input, through to how the driver receives that feedback and moves to the next driving action. Mazda was able to achieve the ideal state for predictable and responsive handling by addressing the following three stages.
SKYACTIV chassis and body:
In pursuit of the Jinba Ittai feel, the SKYACTIV-Chassis features newly developed MacPherson strut suspension in the front and a multi-link layout in the rear. The geometry of the suspension links and the bush characteristics are optimised to ensure light, linear steering response at mid-to-low speeds and excellent high-speed stability. The rear dampers also have a forward-tilting layout, increasing comfort even on rough road surfaces.
A newly developed electric power assist steering system offers highly precise control according to vehicle speed. At mid-to-low speeds, it provides natural feedback and linear feeling from small to large angle inputs. At high speeds, it gives firm, confidence-inspiring feedback.
The brakes deliver easily-controllable, precise and assured braking performance at all speeds.
The lightweight yet rigid SKYACTIV-Body framework is optimised for handling stability, low NVH and excellent collision safety performance. High-tensile steel makes up 61 percent of the frame and includes the world's highest grade 1,800MPa material. It supports the CX-5's rewarding and high-quality, responsive ride.
Care was taken with NVH to ensure the driver hears necessary feedback while actively eliminating intrusive noises. Noises were initially separated into road noise and engine noise. For each, the unpleasant low-frequency, mid-frequency and high-frequency noises were individually identified and efficiently eradicated, resulting in a quiet cabin environment.
To achieve smooth airflow under the vehicle and suppress eddies forming behind it, exiting air is directed upwards using a new underfloor design. The development team effectively reduced underfloor air resistance and optimised the aerodynamic shape of the upper body to achieve an outstanding Cd of 0.33.
SKYACTIV powertrains:
Models powered by the new-generation, highly efficient, SKYACTIV-G 2.0 direct-injection petrol engine provide abundant torque from low engine speeds, enabling acceleration that precisely matches the driver's intention, while achieving outstanding fuel economy, precise response and a high-quality, linear and rewarding drive. Featuring a high compression ratio of 13.0:1 and a 4-2-1 exhaust system, the SKYACTIV-G 2.0 delivers maximum torque of 196Nm (20.0kgf-m) at 4,000rpm and maximum power of 114kW (155PS) at 6,000rpm.
Models powered by the new-generation SKYACTIV-D 2.2 have the world's lowest*2 compression ratio for a diesel engine of 14.0:1, and a highly efficient two-stage turbocharger that delivers spirited and linear acceleration and exhilarating driving dynamics that surpass those of conventional diesel-engine vehicles. The SKYACTIV-D 2.2 delivers maximum torque of 420Nm (42.8kgf-m) at 2,000rpm and maximum power of 175ps (129kW) at 4,500rpm. It also achieves outstanding fuel economy for a compact SUV, with extremely clean emissions that can meet Post New Long-Term Regulations in Japan and the Euro 6 emissions standard without any NOx aftertreatment systems. This powerplant is mated with a SKYACTIV-Drive six-speed automatic transmission, and is the first diesel unit equipped with Mazda's i-stop idling stop mechanism.
The i-stop system for the SKYACTIV-D 2.2 gives the same smooth and fast restarts and stress-free driving as the SKYACTIV-G 2.0. Common diesel engine idling stop systems begin combustion from the second compression stroke. In contrast, Mazda's diesel engine i-stop system begins combustion with a single compression stroke to achieve the world's fastest*2 restart at less than 0.40 seconds.
With the new-generation high-efficiency SKYACTIV-Drive automatic transmission, Mazda has achieved a high degree of balance between the direct feel of a manual transmission, smooth gear shifts and excellent fuel economy. Also, while contributing to enhanced fuel efficiency through a near full-range lock-up, SKYACTIV-Drive offers greatly improved transmission control and coordination with the engine, further providing the CX-5 with a linear and refined shift feel.
Driving support
CX-5 features 'intelligent-Drive Master (i-DM)' to encourage improvements in driving. i-DM's visual displays offer advice both during and after a trip on how to achieve a smooth, confident driving style and improve fuel economy, helping to make every journey fuel-efficient, enjoyable for the driver, and comfortable for passengers.
Environmental performance:
The SKYACTIV-G 2.0 petrol engine model with FWD and six-speed automatic transmission targets 16.0km/L in JC08 mode (17.6km/L in 10-15 mode). The SKYACTIV-D 2.2 diesel engine model with FWD, six-speed automatic transmission aims for 18.6km/L in JC08 mode (20.0km/L in 10-15 mode).
The SKYACTIV-D engine can meet Post New Long-Term Regulations in Japan and the Euro 6 emissions standard without adopting an expensive NOx aftertreatment system such as a urea catalyst and NOx adsorbent catalyst. Powered by this engine, the CX-5 qualifies for tax benefits* in Japan equal to those for hybrid vehicles.
i-stop, Mazda's idling-stop system previously only available on petrol-engine Mazda vehicles, is now available for both SKYACTIV-G and SKYACTIV-D variants of the CX-5.The new i-stop shuts off the engine more frequently, helping to further improve real-world fuel economy thanks to a newly developed, more advanced control system.
The SKYACTIV-Drive six-speed automatic transmission is offered with both SKYACTIV-G and SKYACTIV-D. Its new clutch achieves lock-up in almost all driving conditions, significantly reducing transmission slip and contributing to greater fuel efficiency.
Single-nanotechnology in the catalyst improves exhaust gas aftertreatment performance and reduces the amount of precious metals required.
The CX-5 is one of the lightest and most aerodynamic vehicles in its class*1, which contributes to its outstanding fuel economy and low CO2emissions.
Safety performance
The interior shape of the A-pillars has been optimised to ensure excellent forward visibility on winding roads and at junctions. The side mirrors are mounted on the doors themselves to create a gap between the mirrors and A-pillars through which drivers can easily check their surroundings.
A host of cutting-edge features are available to support the driver's own safety checks and hazard awareness: o  Smart City Brake Support (SCBS) is standard for mid and high trim levels (a first in the compact SUV segment) and uses a new laser sensor system to help prevent or reduce the impact of frontal collision at low speed (up to 30 km/h) by automatically braking the vehicle. o  Upgraded Rear Vehicle Monitoring System (RVM) that detects cars approaching from behind or driving in the blind spot and warns the driver (now from 30km/h onwards instead of 60km/h to support safety in urban driving environments).
The new-generation SKYACTIV-Body achieves both light weight and high rigidity, provides excellent collision safety performance, and is expected to secure top ratings in crash tests around the world.
A multi-load path structure and a front end with a cross-shaped cross-section increases crash energy absorption, further improving safety performance in frontal, side and rear-end collisions.
There are two impact beams in the front doors. The upper beam has a round cross-section, and the lower beam has a double-ridged cross-section. The lower rear beam also has a double-ridged cross-section, helping to improve safety.
The anti-whiplash design of the front seats helps to reduce neck injury in the event of a rear-end collision.
Technical Specifications:
Dimensions (preliminary data)
Seating capacity
5
Overall length
mm
4,540
Overall width
mm
1,840
Overall height
mm
1,705
Wheelbase
mm
2,700
Track
Front
mm
1,585
Rear
mm
1,585 (w/17-inch wheels)/ 1,590 (w/19-inch wheels)
Ground clearance
mm
210
Minimum turning radius
m
5.5
Luggage space capacity (VDA)*
L
503 (including a sub boot)
Luggage space length (to 1st row)*
mm
1,758
Luggage space length (to 2nd row)*
mm
982
Luggage space height
mm
560
Engines (preliminary data)
SKYACTIV-G 2.0 petrol (FWD/AWD)
SKYACTIV-D 2.2 diesel (FWD/AWD)
Displacement
cc
1,997
2,188
Type
Water-cooled, inline 4-cylinder DOHC, 16-valve, direct injection
Water-cooled, inline 4-cylinder DOHC, 16-valve, direct injection
Compression ratio
13.0:1
14.0:1
Max. power
ps (kW)/rpm
FWD: 155 (114)/6,000 AWD: 154 (113)/6,000
FWD: 175 (129)/4,500 AWD: 175 (129)/4,500
Max. torque
Nm (kgf-m)/rpm
FWD: 196 (20.0)/4,000 AWD: 195 (19.9)/4,000
FWD: 420 (42.8)/2,000 AWD: 420 (42.8)/2,000
Fuel tank capacity (FWD/AWD)
L
56/58
56/58
Fuel type
Unleaded regular
Diesel
Transmission
SKYACTIV-Drive (six-speed automatic transmission)
Chassis (preliminary data)
| | | |
| --- | --- | --- |
| Suspension | | Front: MacPherson strut Rear: multi-link |
| Tyre size | | 225/65R17 225/55R19 |
| Wheel size | | 17 x 7J 19 x 7J |
| Steering type | | Electric power assist |
| Brakes | | Front: ventilated discs Rear: solid discs |
| Brake diameter | mm | Front: 297 Rear: 303 |
Fuel efficiency and vehicle weight (target data)
| | | | |
| --- | --- | --- | --- |
| | | SKYACTIV-G 2.0 petrol FWD (AT)/AWD (AT) | SKTACTIV-D 2.2 diesel FWD (AT)/AWD (AT) |
| Fuel efficiency (JC08 mode) | km/L | FWD: 16.0 AWD: 15.6 | FWD: 18.6 AWD: 18.0 |
| Fuel efficiency (10-15 mode) | km/L | FWD: 17.6 AWD: 17.0 | FWD: 20.0 (w/ 17-inch aluminium) AWD: 19.0 |
| Vehicle weight | kg | FWD: 1,440 (w/ 17-inch aluminium) AWD: 1,510 (w/ 17-inch aluminium) | FWD: 1,510 (w/ 17-inch aluminium) AWD: 1,610 (w/ 17-inch aluminium) |