2013 Mazda CX-5 Receives Five Star Euro NCAP Safety Rating
2013 Mazda CX-5 is surprisingly lightweight, high-rigid, and at the same time safe. The safety performance of the model was recognized by Euro NCAP, which awarded the vehicle after the latest crash tests with five starts!
The new CX-5 was launched in Europe in February 2012 and in addition to the maximum rating was also proclaimed as "Top Safety Pick 2012" by the Insurance Institute for Highway Safety (IIHS) in the United States.
The reason for all of these achievements is Mazda's new lightweight, highly rigid SKYACTIV-BODY. Thank to it this Mazda model is one of the safest cars in the world.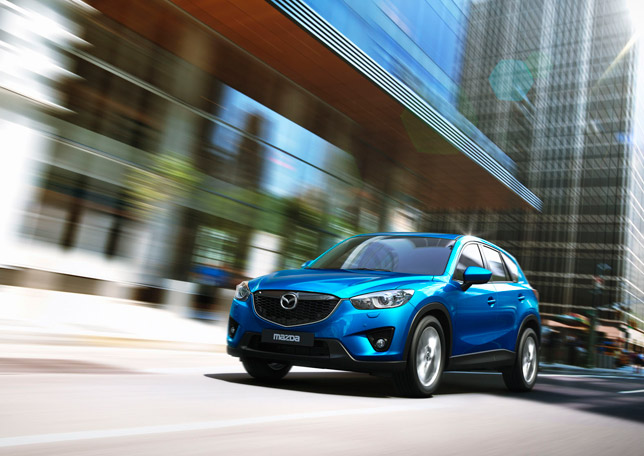 In particular, Euro NCAP rating system awards an overall rating from zero to five stars. The rating is consists of scores in four categories:
• adult occupant protection(50%);
• child occupant protection(20%);
• pedestrian protection(20%);
• safety assist(10%).
Next, the ratings in each category are given after the following tests are made: frontal impact at 64km/h, Car-to-car side impact at 50km/h, Pole side impact at 29km/h, Whiplash from rear end impact and pedestrian protection, and evaluation of the Electronic Stability Control (ESC).
The five starts that the CX-5 just got mean that it has achieved very high scores in all of the four categories. In fact, the 2013 Mazda CX-5 scored amongst the top performers in the small off-road 4x4 category.
The secret of the success lies in the fact that the CX-5 is the first of Mazda's new generation of products which employs the lightweight, highly rigid SKYACTIV-BODY.
Mazda engineers redesigned the body from scratch. They have pondered on all of the fundamental principles of structure, materials, and manufacturing methods and then made the necessary transformation. The aim was to develop the ideal vehicle body, which is now proven to be so by the Euro NCAP rating.
Source: Mazda