2013 Opel Zafira Tourer 2.0 CDTI BiTurbo - 195HP and 400Nm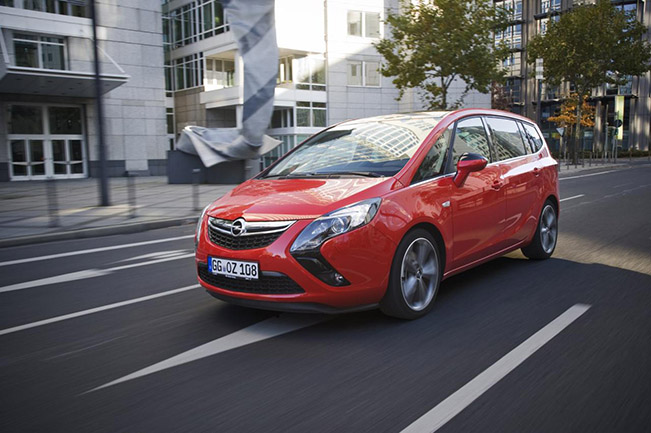 Opel has presented the new 2013 Zafira Tourer 2.0 CDTI BiTurbo. This is the fastest diesel-powered seven-seater in the compact van segment in the world. With a price of €35,405, it is one of the most expensive, too.
The 2.0 liter CDTI BiTurbo has 195HP (143 kW) and 400Nm (295 lb-ft) of torque. 0-100 km/h in 8.9 seconds and a top speed of 218 km/h (135 mph). Other interesting discipline – 80 km/h to 120 km/h takes 8.5 seconds in 5th gear. The 2013 Opel Zafira Tourer BiTurbo has a fuel consumption of 5.6 liters / 100 km (42 mpg US / 50 mpg UK).
The award-winning Zafira Tourer combines premium class ambience inside the cabin with cutting-edge technologies, some of which are unique in the segment and enhance safety and comfort. Technical highlights include the mechatronic FlexRide chassis system, the second-generation Opel Eye front camera, the AFL+ adaptive forward lighting system and a panoramic windshield which floods the cabin with natural light.
Extra flexibility inside the Zafira Tourer is provided by the new generation Flex7 system, including the unique lounge seating functions which give passengers an unprecedented amount of space in the second row.
First deliveries will begin in April, this year.
Source: Opel