2013 Scion iQ EV - Performance and Efficiency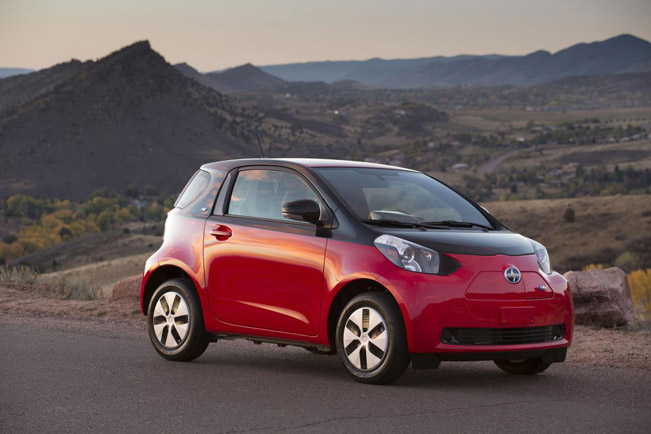 Scion has announced the new 2013 iQ EV, which is essentially a rebadged Toyota iQ with an electric motor. However, the iQ EV is a battery- electric four-seater city commuter car designed for car-sharing programs, in urban and campus environments.
"Toyota believes battery-electric vehicles have the potential to play a role in future mobility strategies," commented Chris Hostetter, TMS group vice president of strategic planning.
"Up to now, cost and convenience issues have limited BEV's appeal with a broad consumer market. Toyota developed the iQ EV specifically as a city commuter, for use in an urban environment, where driving distances are likely to be short, charging opportunities numerous, and its compact proportions beneficial.", he added.
The 2013 Scion iQ EV is available in only Silver or nice Red finishes. The interior features black and white color scheme with metallic accents and ice-blue trim. There are also a leather steering wheel and nice upholstery for the seats, which are by the way heated. The small car also comes with an infotainment system with GPS SAT NAV.
The Scion iQ EV is powered by an electric motor with 64HP (47 kW) and 163Nm (120 lb-ft) of torque. 0-100 km/h in 13.4 seconds and a top speed of 125 km/h (78 mph). The car can go up to 80 km (50 miles) on a single charge, which takes three hours plugged in 240V outlet. The 12 kWh lithium-ion battery is mounted below the floor.
The iQ EV is equipped with 11 SRS (Supplemental Restraint System) airbags including knee, side, seat cushion, front and rear curtain, and a rear window curtain airbag. The front passenger seat is equipped with an occupant detection system.
2013 iQ EV is manufactured at Toyota's Takaoka Plant in Toyota City. Production began in September 2012.
Source: Scion