2013 Toyota Auris at the Paris Motor Show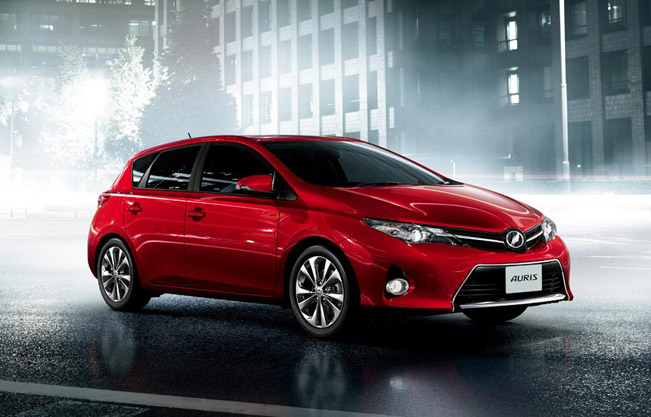 Toyota has announced the new 2013 Auris. The compact family car is in C-segment and offers a wide range of capabilities. The model that has stronger styling, better dynamic performance, higher equipment levels and lower running costs than its predecessor.
The new Auris is designed to reflect Toyota's determination to produce cars that are more appealing to own and engaging to drive, while building on its long-established reputation for  quality, durability and reliability. It will be presented at the 2012 Paris Motor Show.
The exterior features LED-infused headlights, a trapezoidal intake and an aggressive rear end. The model will be available in 10 different exterior colors and can be equipped with 15", 16" or 17" alloy wheels fitted with proper tire sizes. The colour range include: Avant-Garde Bronze, Dark Steel and Blue. Pearl White will be exclusive the new Auris Hybrid.
The interior boasts high quality materials and nice design. There is a new three-spoke steering wheel, satin silver trim and a leather-wrapped dashboard on high level variants.
The new front seats have longer fore and aft travel and an increase in height adjustment range. A new front sports seat design has also been introduced, with extra lateral support.
Entry level and mid-range models feature seats with a new fabric covering; sports grade models add contrasting red panels, and on higher grade models a combination of black velour with leather bolsters is used. An Ice Grey leather option will be exclusive to Auris Hybrid.
The engine range includes four different power units – a 1.33 liter petrol with 98HP (73 kW) and 128Nm (94 lb-ft). It averages 5.4 liters / 100 km (43.5 mpg US) with CO2 emissions of 125 g/km. The bigger 1.6 liter Valvematic petrol has 130HP (97 kW) and 160Nm (118 lb-ft) of torque. The average fuel consumption of the 1.6 liter Valvematic is 5.9 liter per 100 km (39.9 mpg US) with CO2 emissions of 138 g/km. The diesel variant is a 1.4 liter D-4D with 89HP (66 kW) and 205Nm (151 lb-ft) of torque. It is mated to a 6-speed manual gearbox. Last is the hybrid version, which has a 1.8-liter VVT-i petrol engine and an electric motor for a combined output of 136HP (100 kW) and 142Nm (105 lb-ft). 0-100 km/h in 10.9 seconds and a top speed of 180 km/h (112 mph). This model can go up to 2 km (1.2 miles) on electricity alone, which is superb, when you have very short city trips.
Toyota Stop & Start technology is available with the 1.33 Dual VVT-i petrol and 1.4 D-4D diesel engines. It automatically switches the engine off when the vehicle is stopped, and provides an immediate restart with virtually no engine sound or vibration.
Source: Toyota