2013 Volkswagen e-Up! - 150 km Range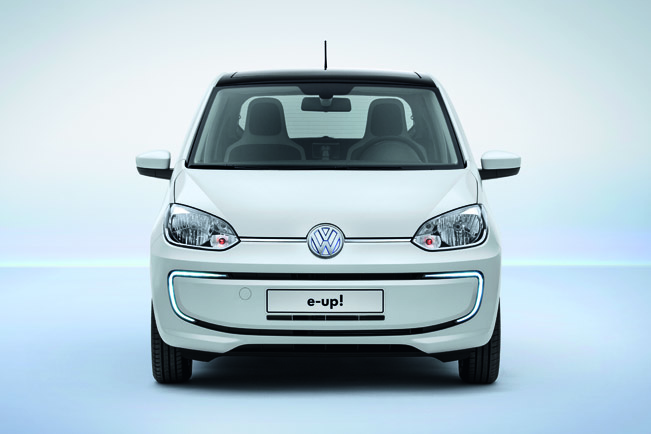 Volkswagen has revealed the new all-electric version of the 2013 Up!. The four-seat car – which operates with nearly zero noise – is being shown at today's Annual Press and Investors Conference in Wolfsburg. It impresses with its driving range of 150 km and excellent everyday practicality.
The electric motor has a maximum output of 82HP (60 kW)  and a continuous power of 55HP (40 kW). The torque is 210Nm (155 lb-ft) from the first rev. 0-100 km/h in 14 seconds and a top speed of 135 km/h (84 mph). The 18.7 kWh lithium-ion battery pack can be charged up to 80 % in just 30 minutes.
Other higlights include LED daytime running lights, aerodynamically optimized: underbody, sills and front end. There is a set of 15" alloy wheels fitted with low-resistance tires.
The curb weight is 1,185 (2,612 lbs).
The vehicle's interior features e-up! light-grey seat covers with blue top-stitched seams. Special leather and chrome accents have been used to convey a puristic impression that matches the vehicle concept of a full-fledged urban electric car.
Looks like the perfect city car, but will it be…?
Source: Volkswagen