2013 Volkswagen Jetta Hybrid - US Price $24,995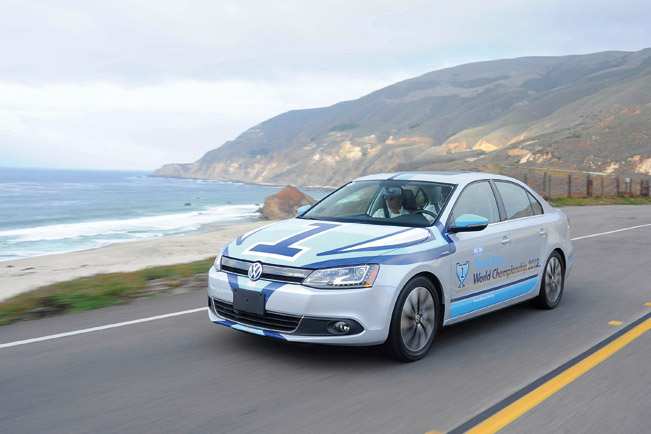 Volkswagen has announced the new 2013 Jetta Hybrid. The new Jetta Hybrid can go in pure electric mode, and therefore with zero emissions, at speeds of up to 70 km/h (44 mph) and over a distance of 2 km (1.3 miles). It also boasts an extremely low (combined) fuel economy value of 45 mpg.
2013 Jetta Hybrid is powered by a 1.4-liter TSI and an electric motor. The power is put on the road through to a 7-speed DSG gearbox. The overall power is 170HP (127 kW) and 250Nm (184 lb-ft) of torque. 0-100 km/h in 9 seconds and fuel consumption of just 5.2 liters per 100 km in the combined cycle.
The petrol engine can be fully disengaged, when the car is in pure electric driving mode or 'sailing' mode (coasting / braking). Therefore, during braking, the Jetta Hybrid switches over to a battery regeneration mode, which 'captures' kinetic energy and feeds it into the battery as electrical energy.
The 2013 Volkswagen Jetta Hybrid SE include 15" alloy wheels fitted with all-season, low-rolling resistance tires. The mid-range SEL1 comes with 16" wheels, electric sunroof, electric adjustable driver's seat, SAT NAV, front heated seats and keyless access. The top of range SEL2 rides on 17" alloys and adds bi-xenon headlights, fog lights and 400 WATTS Fender premium sound system.
Extensive safety and convenience features
Electronically stabilised. Standard equipment in the new Jetta Hybrid includes an electronic stabilisation programme (ESP), anti-lock braking system (ABS) and six airbags (driver and front passenger airbags, side airbags in front as well as window airbags, front and rear). This pack can be extended to include rear side airbags as an option.
SE – specified exterior. Visually, even the base version (SE) of the Jetta Hybrid is distinguished by aerodynamic modifications that include a new front spoiler, a rear diffuser and a rear spoiler that is harmoniously integrated into the design. The results: the car's Cd value was improved by 10 per cent. In addition, the Jetta Hybrid SE is equipped with a new LED rear lights design and special 15-inch alloy wheels with all-season tyres optimised for low rolling resistance. Hybrid signatures on the front, rear and side body panels identify the new drive version. Other distinguishing features: a special radiator grille where the VW logo is integrated on a blue background for the first time. Exclusively reserved for the Jetta Hybrid is the new body paint 'Oryx white'.
SE – upgraded interior. Inside, the car features high-end seat covers in 'Titan black' or 'EcoTech' design and new accent strips with the 'Hybrid' chrome signature, which identify the car as the Jetta Hybrid SE. A 2-zone automatic climate control system (Climatronic) with a new high-voltage air conditioning compressor ensures that the interior can be cooled even without the petrol engine running. Compared to the Climatronic used to date, this system also has the new 'maxAC' function, which cools down the interior very quickly at the press of a button. The technology of the Jetta Hybrid SE was perfected by specific instruments that include an energy flow diagram in the Premium 8 audio system, a trip computer, hands-free telephone system (Bluetooth) and interface for iPod and other multimedia sources as well as a multifunction leather-wrapped steering wheel.
SEL1 and SEL2 are high-end. In the mid-level equipment version, the SEL1, standard features of the new Volkswagen are extended with such details as 16-inch alloy wheels, a tilt/slide glass sunroof, RNS 315 navigation system, electric driver's seat adjustment, seat heating in front, and the Keyless Access system for door locking and engine starting via a Start button. Customers who order the top version, the SEL2, can also enjoy details such as 17-inch alloy wheels, newly developed bi-xenon headlights with dynamic cornering lights and automatic motorway lights, fog lights, reversing camera and a new Fender sound system with 400 Watts of output power. And that is how it should be. After all, who says that maximum sustainability cannot be fun as well?
Source: Volkswagen