2013 Volkswagen Jetta Hybrid is World's Fastest Hybrid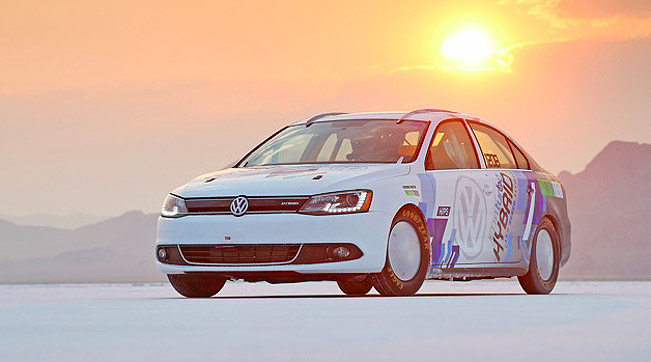 2013 Volkswagen Jetta Hybrid has been announced as the world's fastest hybrid ever created. The reason for this is that it as just set a world speed record at 185 mph.
This remarkable result was achieved at the Bonneville Salt Flats. The Volkswagen was driven by Motor Trend Associate Road Test Editor Carlos Lago. In fact, the official speed that he had achieved was 185.394 mph (298.363 km/h).
This number was enough to announce that this was the "fastest speed ever achieved by a production-based hybrid car on the famed Bonneville Salt Flats." However, "production-based" still means that the powertrain was modified by Volkswagen engineers.
The wheels were also made more aerodynamically inclined, however what exactly happened to the car in order to achieve this excellent result, wasn't revealed.
In general Jetta Hybrid gets 45 miles per gallon and has a sprint time of 9.0 secondts for acceleration from 0 to 100 km/h. It utilizes four-cylinder 1.4-liter turbocharged TSI gasoline engine. The latter generates 150 horsepower (110 kW) and is mated to a 20 kW (27 hp) electric motor.
Source: Prindiville