2014 BMW M235i Racing - 333 HP and 450 Nm [details]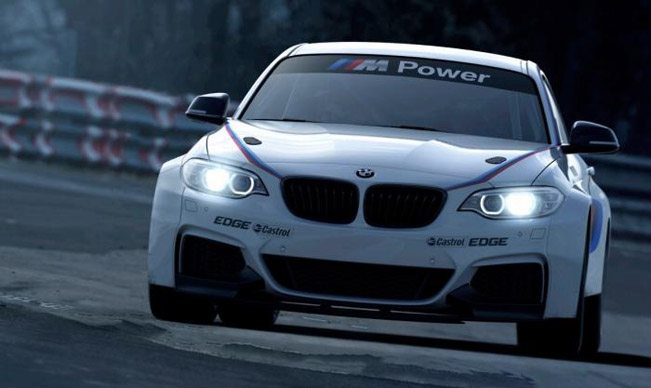 BMW Motorsport has released full details of the 2014 M235i Racing. The specially prepared sports car packs a lot of nice performance upgrades and improved engine.
The dimensions are 4,454mm in length, 1,861mm in width, 1,380mm in height and a 2,690mm wheelbase. It rolls 18" alloy wheels fitted with performance tires.
The suspension is improved thanks to H&R and KW - H&R suspension springs and KW shock absorbers, front and rear H&R anti-roll bars and high-performance brakes with 4-piston fixed calipers.
The engine is the well-known straight-six TwinPower Turbo 3.0 liter – 333HP (245 kW) and 450Nm (331 lb-ft) of torque.
Other upgrades include an LSD (limited-slip differential) and a complete sports exhaust system. The interior features include a sports steering wheel with mounted shift paddle shifters. There are also Recaro Pro Racer SPG racing seats, six-point racing Schroth belts and a FIA-compliant roll cage.
2014 BMW M235i Racing is priced from €59,500 (excl. VAT).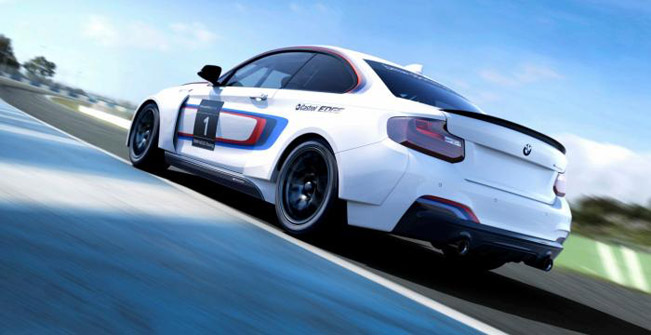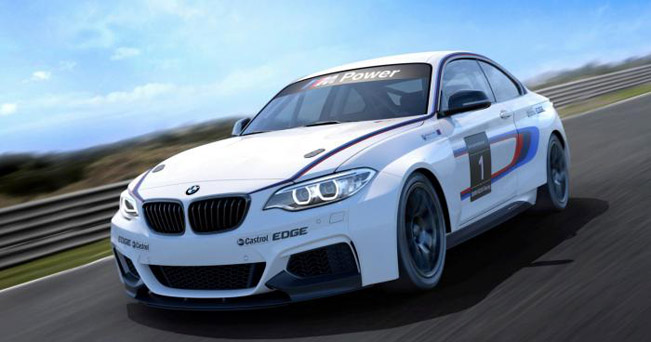 DIMENSIONS Length: 4,454mm
Max. width: 1,862mm (without mirrors)
Max. track width: 1,608mm
ENGINE / TRANSMISSION Straight six-cylinder petrol engine
BMW M Performance TwinPower Turbo
Racing exhaust with racing catalytic converters
Steering wheel with shift paddles
BMW M Performance limited-slip differential
TANK Motorsport safety tank
SUSPENSION / STEERING KW dampers
Front: H&R anti-roll bar (2-way)
BRAKES Front: High-performance motorsport braking system -
Performance Friction (PFC); 4-pot fixed calliper
Rear: BMW M Performance 2-pot braking system
ABS / DSC / ASC BMW Motorsport specific racing application
TYRES / WHEELS 18x10 inch alloy rims
SAFETY COMPONENTS Cage with DMSB certificate and FIA approval
6-point racing harness from Schroth
Racing seat RECARO Pro Racer SPG
EXTRAS Taxi seat, incl. belt
Source: BMW