2014 BMW M3 Sedan - 424 WHP [video]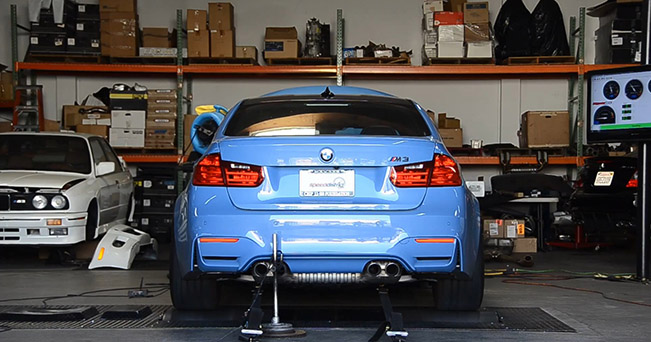 It appears that the all-new 2014 BMW M3 Sedan and M4 Coupe are a lot underrated in terms of performance figures. Although BMW says that the new performance engine (S55B30) produces 431HP (317 kW) and 550Nm (406 lb-fT), the dyno runs prove something else.
2014 BMW M3 Sedan made several runs – 424HP (312 kW) and 574Nm (425 lb-ft), 422HP (310 kW) and 573Nm (424 lb-ft) and 419HP (308 kW)and 562Nm (416 lb-ft). On the first sight, everything looks good, but these measurements actually show the wheel-horsepower. Usually the RWD (rear-wheel drive cars) lose around 15 % of engine power, when its transmitted through gearbox, driveshaft and differential. In other words, the new M3 produces around 480HP (353 kW) and 648Nm (480 lb-ft) of torque, which is 50HP and nearly 100Nm more than the stated numbers.
We suspected that the new generation of M3 and M4 will be more powerful, but not that much. The original time for 0-100 km/h is just 4.3 seconds, which seems quite fast for a sports car with 431HP. BMW also said that the M5 F10 produces 560HP (412 kW), but according to a number of dyno tests, it develops a lot more.
Now the acceleration figures of the latest generation M3 make sense. Enjoy the video!
Source: Europeanautosource