2014 Chevrolet Corvette Stingray Z51 Performance Specs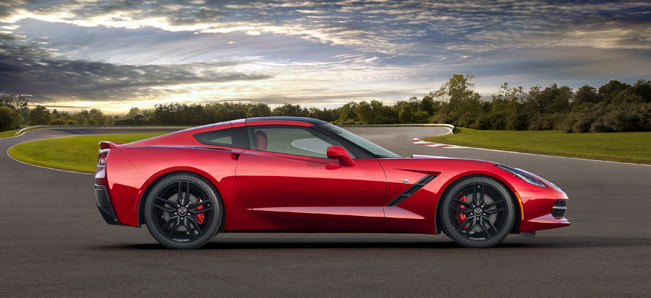 Chevrolet has announced full performance specifications for the 2014 Corvette Stingray Z51 Package.
The sports car is powered by a 6.2 liter V8 engine with 455HP (339 kW) and 624Nm (460 lb-ft) of torque. 0-96 km/h (0-60 mph) in 3.8 seconds and ¼ mile is covered in just 12.0 seconds. The sports coupe can pull 1.03 g on the skid pad and decelerate 60-0 mph in 32.6 meters (107 feet).
Cumulatively, the acceleration, cornering and braking capability of the Corvette Stingray enabled it to lap the Virginia International Raceway's (VIR) 4.2-mile "Grand Course" in 2:51.78.
The Z51 Performance Package costs $2,800 and includes aerodynamic styling upgrades, an electronic LSD (limited-slip differential), a dry-sump oiling system and an upgraded cooling system.
The test car was also equipped with Magnetic Ride Control which adds $1,795.
2014 Chevrolet Corvette Stingray is priced from $51,995.
Source: Chevrolet