2014 Ford Focus Facelift - Updated Engine Range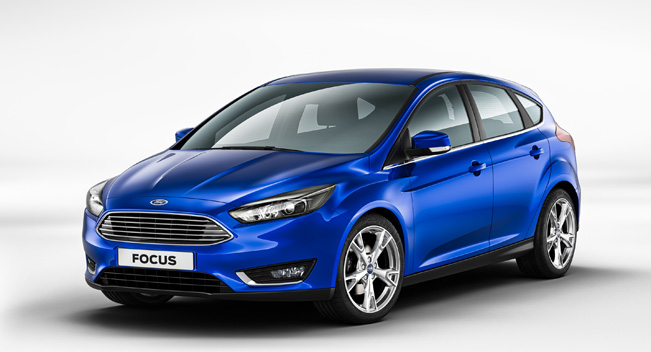 Ford has released full details about the 2014 Focus Facelift, which comes with updated exterior, interior and engine range. The hatchback will make its public debut at the 2014 Geneva Motor Show, next week. It is expected to hit the market in the second half of this year, but pricing is not announced, yet.
The exterior boasts new bumpers and headlights as well as new rear lights. There are also four completely new body panels and the Aston Martin-like front grille. 2014 Focus is available in additional new exterior colours - Deep Impact Blue and Glace Blue. It also boasts lower and wider stance as well as some new chrome details.
"The vision was to add more emotion to the design of Focus," commented Martin Smith, executive design director, Ford of Europe.
"The new Focus is more toned, and more athletic, with more refined surface language; and clearly offers a promise of the drive experience to come.", he added.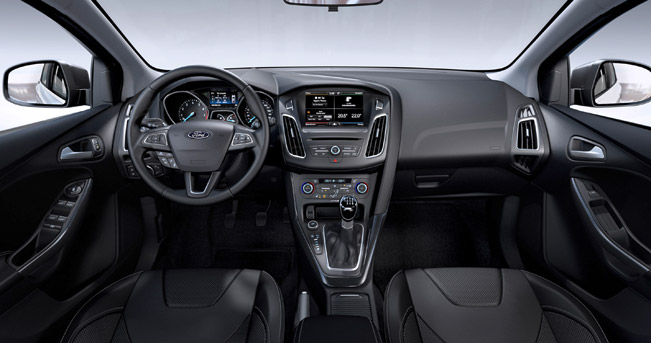 The interior also comes with some upgrades like more intuitive layout, new steering wheel and central stack with fewer controls and switches. The new black satin trim and chrome detailing contribute to a cleaner, more modern look, and more logical and intuitive functions.
The engine range includes a new 1.5 liter EcoBoost – 150HP (110 kW) and 180HP (132 kW) variants. There is also a new 1.5 liter TDCi with 95HP (70 kW) or 120HP (88 kW). Other engines in the range are the familiar 1.0 liter EcoBoost – 100HP (74 kW) and 125HP (92 kW) variants and a 1.6 liter TI-VCT with 85HP (63 kW), 105HP (77 kW) and 125HP (92 kW) versions. The 2.0 liter TDCi with 150HP (116 kW) is also available as well as an electric model with 145HP (107 kW).
The gearbox variants are 5- and 6-speed manuals, a 6-speed automatic and a 6-speed speed PowerShift automatic (depending on engine choice). The US-spec model will be offered for the first time with 1.0 liter EcoBoost linked exclusively to a 6-speed manual.
Other changes include upgraded front dampers with two additional steps in damper valving as well as stiffer front and rear bushes providing improved stability and traction. Last, but not least is the updated the electric power steering and modified ESC system.
* New Ford Focus provisional powertrain line-up in the UK:
| | | |
| --- | --- | --- |
| CAPACITY | POWER | TRANSMISSION |
| 1.0L EcoBoost petrol | 100 PS | five-speed manual |
| 1.0L EcoBoost petrol | 125 PS | six-speed manual |
| 1.0L EcoBoost petrol | 125 PS | six-speed automatic (2015) |
| 1.5L EcoBoost petrol | 150 PS | six-speed manual |
| 1.5L EcoBoost petrol | 150 PS | six-speed automatic (2015) |
| 1.5L EcoBoost petrol | 180 PS | six-speed manual |
| 1.5L EcoBoost petrol | 180 PS | six-speed automatic (2015) |
| 1.6L TI-VCT petrol | 85 PS | five-speed manual |
| 1.6L TI-VCT petrol | 105 PS | five-speed manual |
| 1.6L TI-VCT petrol | 125 PS | six-speed PowerShift automatic |
| 1.5L ECOnetic diesel | 105 PS | six-speed manual |
| 1.5L TDCi diesel | 120 PS | six-speed PowerShift automatic  (2015) |
| 1.6L TDCi diesel | 95 PS | six-speed manual |
| 1.6L TDCi diesel | 115 PS | six-speed manual |
| 2.0L TDCi diesel | 150 PS | six-speed manual |
| 2.0L TDCi diesel | 150 PS | six-speed PowerShift automatic |
| Electric | 145 PS | single-speed automatic |
Source: Ford