2014 Porsche Boxster GTS and Cayman GTS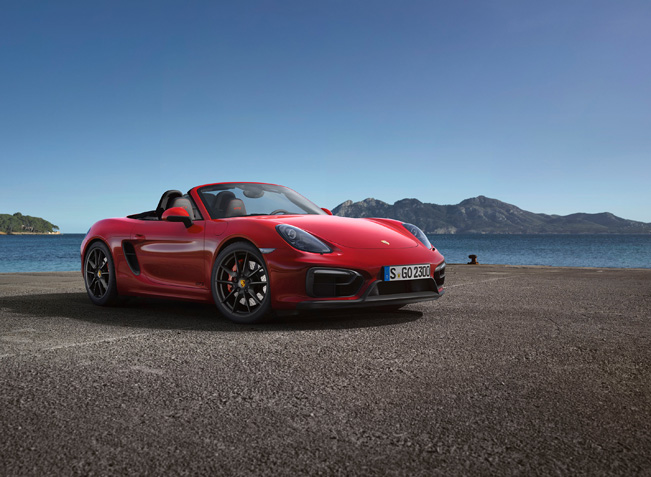 Porsche has unveiled two new top-of-range models - Boxster GTS and Cayman GTS.
Both are powered by a 3.4 liter flat-six with 330HP (243 kW) for the Boxster GTS and 340HP (250 kW) for the Cayman GTS. The torque is 370Nm (273 lb-ft) and 380Nm (280 lb-ft), respectively. The Chrono package comes as standard on both models. 2014 Porsche Boxster GTS accelerates 0-100 km/h in 4.7 seconds  and the Cayman GTS needs just 4.6 seconds with corresponding top speed of 281 km/h (175 mph) and 285 km/h (177 mph).
Other standard extras include Porsche Active Suspension Management (PASM), a set of 20" alloy wheels from the 911 Carrera S fitted with 235/35 front and 265/35 rear tires. There are also darkened bi-xenon headlights along updated front and rear bumpers. The interior boasts leather sport seats with Alcantara trim.
2014 Posrche Boxster GTS and Cayman GTS are expected to hit the market in May, this year with pricing starting from €69,949 and €73,575, respectively.
Source: Porsche