2014 Renault Megane Hatch - Crash Test [video]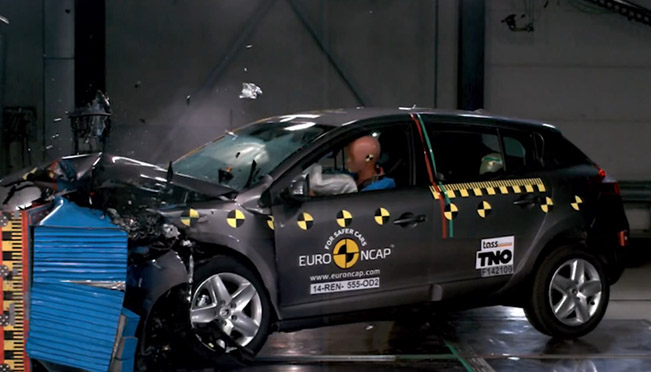 Euro NCAP has published a video with several crash tests with the new 2014 Renault Megane Hatch. As usual, the front impact takes place at 64 km/h (40 mph), and 40 % of the width of the car strike a deformable barrier. In the side impact, a mobile deformable barrier impacts the driver's door at 50 km/h (31 mph). In the pole test, the vehicle is propelled sideways at 29 km/h (18 mph) into a rigid pole.
Euro NCAP has a new system, so the 2014 Megane Hatch get only three stars out of five in terms of overall safety.
The passenger compartment remained stable in the frontal impact. Renault showed that a similiar level of protection would be provided to occupants of different sizes and to those sat in different positions. In the side barrier test, the Megane Hatch scored maximum points with good protection of all body areas. In the more severe side pole impact, dummy readings of chest compression indicated marginal protection for that part of the body. The protection provided by the seat and head restraint against whiplash injuries was also marginal for the front seats and was rated as poor for the rear seats, based on a geometric assessment.
The front bumper provides good protection to pedestrians's legs in all areas tested and scored maximum points. However, the protection offered by the front edge of the bonnet was predominantly poor. On the surface of the bonnet, protection offered to the head of a struck pedestrian was predominantly adequate but was poor along the bottom of the windscreen and on the stiff windscreen pillars.
Electronic stability control is standard equipment. A seatbelt reminder system is standard for the front and rear seats. The system for the front seats met Euro NCAP's requirements. A driver-set speed limitation device is also standard equipment and met Euro NCAP's requirements for systems of this type.
Source: Euro NCAP