2014 Volkswagen CrossPolo, Polo BlueMotion and BlueGT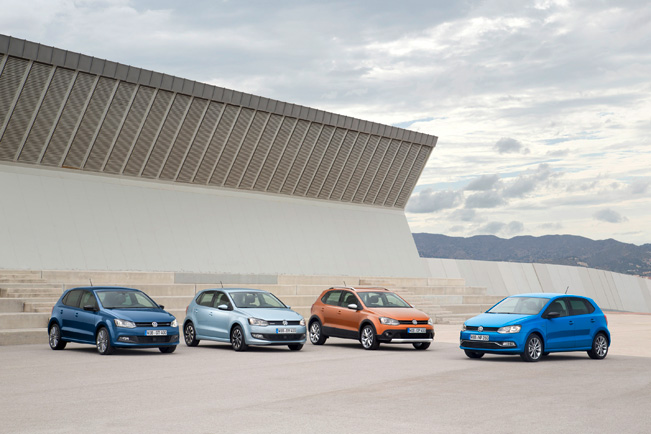 Volkswagen is going to exhibit several models of the recently 2014 Polo Facelift at the Geneva Motor Show, next week.
First is the small crossover called CrossPolo coming with a set of new 17" alloy wheels, covered lower areas of the bumpers, sills and the wheel arches. There are also silver inserts on the roof rails, mirror housings and both bumpers. 2014 Volkswagen CrossPolo also boasts a new steering wheel, better fabrics and different gear and parking brake lever.
Second is the Polo TSI BlueMotion powered by a 1.0 liter turbocharged three-cylinder engine with 90HP (66 kW). It is able to return 57.3 mpg US or 68.9 mpg UK – a 4.1 liters / 100 km on combined cycle. The Polo TDI BlueMotion has a 1.4 liter three-cylinder diesel with 75HP (55 kW) – 75.8 mpg US or 91.1 mpg UK – just 3.1 liters / 100 km.
Last, but not least is the Polo Blue GT (Polo GTI), which boasts lowered suspension (by 15mm) and 17" alloy wheels fitted with low-profile tires. There are also different bumpers, wide side sills and a rear spoiler above the tailgate. It is powered by a 1.4 liter TSI with 150HP (110 kW), which is 10HP more than before. It also has a spectacularly low fuel consumption – 4.8 liters / 100 km (48.9 mpg US or 58.8 mpg UK).
Source: Volkswagen