VW Polo BlueGT
What happens when you cross mad lunacy with refinement and sensibility? Obviously and epic lovechild that has the best of both worlds. In our case that's the VW Polo BlueGT (no, it's not a sad GTI). It's a super fun 140 PS Polo that has the looks and feel of a GTI and the metabolism of a BlueMotion. Today, on a stand at the Geneva Motor Show and within months, on to the European roads.
A system described as "ACT cylinder deactivation" is at the core of the BlueGT ideology. The second and third cylinders are automatically shut down within the 1,250 and 4,000 rpm. range and when torque output is between 25 and 100 Nm. If the driver decides to give it the beans, reactivation of the cylinders happens seamlessly in a matter of milliseconds but the dashboard will tell you nevertheless. That gives the 1.4 turbocharged, 140 PS engine the upper edge in fuel economy. Its combined cycle of fuel consumption amounts to 4.7 litres per 100 km (around 60 mpg). CO2 emissions equal to 108 g/km. Opt for the DSG transmission and you'll get even more frugality. At the same time the top speed is at 210 kmh (130 mph) and zero to 62 mph takes 7.9 seconds.
For the styling of the BlueGT, Volkswagen have gone the "Frankinstain's monster" way – GTI strains account for the front and rear bumpers, the rear spoiler, the instruments inside, the sports seasts and the leather steering wheel. The BlueGT is also 15 mm closer to the ground and sits on 17-inch multi-spoked alloys. The side sills and front windscreen rain channels, on the other hand, are from a Polo BlueMotion. This particular model is also the typical BlueMotion shade and the badges are all blue. Unlike the Frankinstain story however, the BlueGT might turn out to be a success rather than a tragedy. In fact, the BlueGT carries the first of Volkswagen's EA211 series of engines – a line that will underpin most of the models in the company's production future.
Hopefully, shipments are going to start in July within mainland Europe. Whether there's going to be a production for the UK, is still not announced.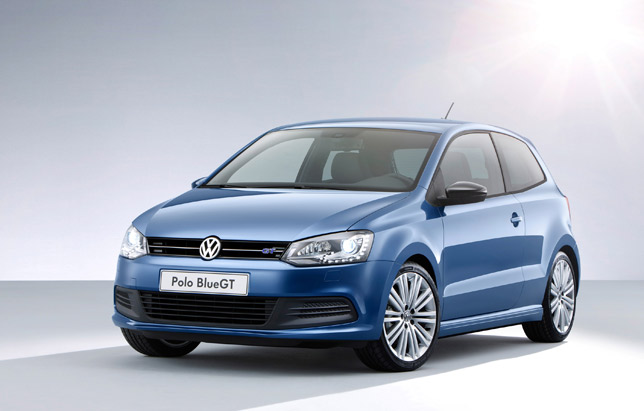 Source: Volkswagen