2014 Volkswagen e-Golf - Price €34,900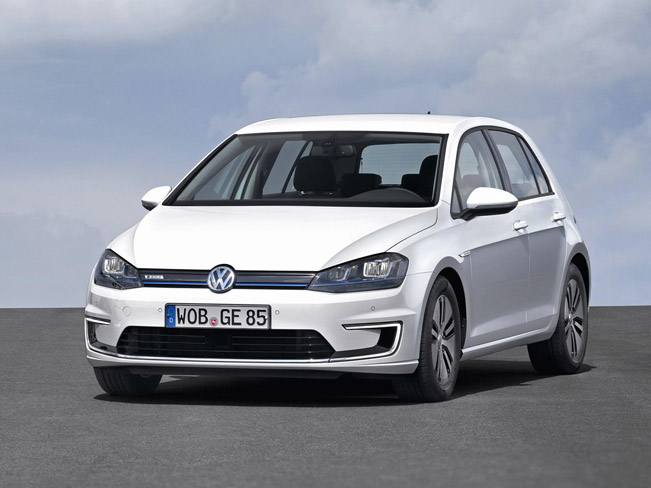 Volkswagen has unveiled the Golf VII EV (electric vehicle), which is now available on the market with pricing starting from €34,900.
2014 Volkswagen e-Golf is powered by an electric motor with 115 HP (85 kW) and 270Nm (199 lb-ft) of torque. 0-100 km/h in 10.4 seconds and 0-60 km/h in just 4.2 seconds. It has an estimated range between 130 km (81 miles) and 190 km (118 miles) – depending on the driving style, route and traffic conditions. The Golf EV also comes with 8-year / 160,000 km guarantee for the 24.2 kWh battery and according to VW running costs of the e-Golf stand at just €3.28 / 100 km.
The standard equipment includes a heated windscreen, Discover Pro radio and Navigation system, leather-wrapped steering wheel, aero-optimized alloys, full LED headlights and unique C-shaped LED DRLs. There is also an automatic climate control as well low-rolling resistance tires.
The Golf model is described by the manufacturer as "the most successful European car of all time".
1e-Golf power consumption in kWh/100 km: 12.7 (combined); CO2 emission in g/km: 0 (combined); efficiency class: A+
2e-up! power consumption in kWh/100km: 11.7 (combined); CO2 emission in g/km: 0 (combined); efficiency class: A+
3eco-up! fuel consumption in natural gas (CNG) kg/100 km: 3.6 kg/100 km (urban) / 2.5 kg/100 km (extra urban) / 2.9 kg/100 km (combined), CO2 emission in g/km: 79 g/km (combined); efficiency class: A+
Source: Volkswagen