2014 Volkswagen Passat Executive Style - Price £23,895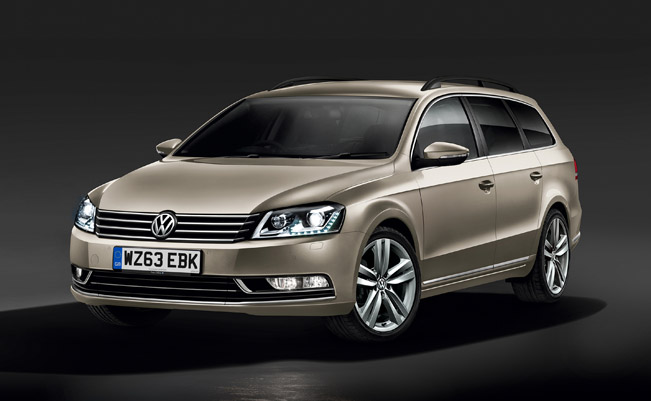 Volkswagen is now offering two new trim levels for the new 2014 Passat: Executive and Executive Style. 2014 Volkswagen Passat Executive Style is priced from £23,895 and comes with impressive standard equipment.
Executive trim level comes with 17" Michigan' alloy wheels (a full-size alloy spare is also included), exterior chrome trim, along with matt black roof rails on the Estate. The interior boasts standard DAB radio, MDI multi-device interface with USB and iPhone cables and Bluetooth connectivity are added to with Volkswagen's RNS 315 touchscreen SAT NAV system. The leather-trimmed multifunction wheel and gear lever are enhanced by Vienna leather upholstery, including heated front seats, and electric adjustment for the driver's seat.
There is standard 2Zone climate control, automatic lights and wipers as well as auto-dimming interior rear-view mirror.  Cruise control is also fitted, along with front and rear parking sensors, with both audible output and optical display.
The Executive Style builds on the Executive, but as the name suggests, it comes with a more distinctive look.  Hunkered down on 15 mm lower sports suspension, the Executive Style comes with 18" 'Kansas' alloy wheels, bi-xenon headlights, front fog lights, and tinted rear glass.
Both trim level are now available to order.
| | | | | |
| --- | --- | --- | --- | --- |
| Trim level | Engine derivative | CO2, g/km | MPG (comb) | Price, £ RRP OTR |
| Passat saloon | | | | |
| S | 1.4 TSI 122 PS 6spd man | 138 | 47.9 | 20,235.00 |
| S | 1.4 TSI 122 PS 7spd DSG | 138 | 47.1 | 21,750.00 |
| S | 1.6 TDI 105 PS 6spd man | 114 | 65.7 | 21,000.00 |
| S | 2.0 TDI 140 PS 6spd man | 119 | 61.4 | 22,290.00 |
| S | 2.0 TDI 140 PS 6spd DSG | 135 | 54.3 | 23,920.00 |
| BlueMotion | 1.6 TDI 105 PS 6spd man | 109 | 68.9 | 21,270.00 |
| Executive | 1.4 TSI 160 PS 6spd man | 144 | 45.6 | 22,900.00 |
| Executive | 1.4 TSI 160 PS 7spd DSG | 142 | 46.3 | 24,400.00 |
| Executive | 1.6 TDI 105 PS 6spd man | 114 | 65.7 | 22,545.00 |
| Executive | 2.0 TDI 140 PS 6spd man | 119 | 61.4 | 23,660.00 |
| Executive | 2.0 TDI 140 PS 6spd DSG | 135 | 54.3 | 25,400.00 |
| Executive | 2.0 TDI 177 PS 6spd man | 120 | 61.4 | 25,010.00 |
| Executive | 2.0 TDI 177 PS 6spd DSG | 136 | 54.3 | 26,750.00 |
| Executive Style | 1.4 TSI 160 PS 6spd man | 144 | 45.6 | 23,895.00 |
| Executive Style | 1.4 TSI 160 PS 7spd DSG | 142 | 46.3 | 25,395.00 |
| Executive Style | 1.6 TDI 105 PS 6spd man | 114 | 65.7 | 23,540.00 |
| Executive Style | 2.0 TDI 140 PS 6spd man | 119 | 61.4 | 24,655.00 |
| Executive Style | 2.0 TDI 140 PS 6spd DSG | 135 | 54.3 | 26,395.00 |
| Executive Style | 2.0 TDI 177 PS 6spd man | 120 | 61.4 | 26,005.00 |
| Executive Style | 2.0 TDI 177 PS 6spd DSG | 136 | 54.3 | 27,745.00 |
| | | | | |
| Passat Estate | | | | |
| S | 1.4 TSI 122 PS 6spd man | 142 | 46.3 | 21,585.00 |
| S | 1.4 TSI 122 PS 7spd DSG | 140 | 46.3 | 23,165.00 |
| S | 1.6 TDI 105 PS 6spd man | 116 | 64.2 | 22,355.00 |
| S | 2.0 TDI 140 PS 6spd man | 120 | 61.4 | 23,705.00 |
| S | 2.0 TDI 140 PS 6spd DSG | 135 | 54.3 | 25,335.00 |
| BlueMotion | 1.6 TDI 105 PS 6spd man | 113 | 65.7 | 22,625.00 |
| Executive | 1.4 TSI 160 PS 6spd man | 144 | 45.6 | 24,310.00 |
| Executive | 1.4 TSI 160 PS 7spd DSG | 144 | 45.6 | 25,810.00 |
| Executive | 1.6 TDI 105 PS 6spd man | 116 | 64.2 | 23,955.00 |
| Executive | 2.0 TDI 140 PS 6spd man | 120 | 61.4 | 25,070.00 |
| Executive | 2.0 TDI 140 PS 6spd DSG | 135 | 54.3 | 26,810.00 |
| Executive | 2.0 TDI 177 PS  6spd man | 123 | 60.1 | 26,420.00 |
| Executive | 2.0 TDI 177 PS 6spd DSG | 136 | 54.3 | 28,160.00 |
| Executive Style | 1.4 TSI 160 PS 6spd man | 144 | 45.6 | 25,305.00 |
| Executive Style | 1.4 TSI 160 PS 7spd DSG | 144 | 45.6 | 26,805.00 |
| Executive Style | 1.6 TDI 105 PS 6spd man | 116 | 64.2 | 24,950.00 |
| Executive Style | 2.0 TDI 140 PS 6spd man | 120 | 61.4 | 26,065.00 |
| Executive Style | 2.0 TDI 140 PS 6spd DSG | 135 | 54.3 | 27,805.00 |
| Executive Style | 2.0 TDI 177 PS 6spd man | 123 | 60.1 | 27,415.00 |
| Executive Style | 2.0 TDI 177 PS 6spd DSG | 136 | 54.3 | 29,155.00 |
Source: Volkswagen