2015 Alfa Romeo 4C: Motor Authority's Best Car To Buy 2015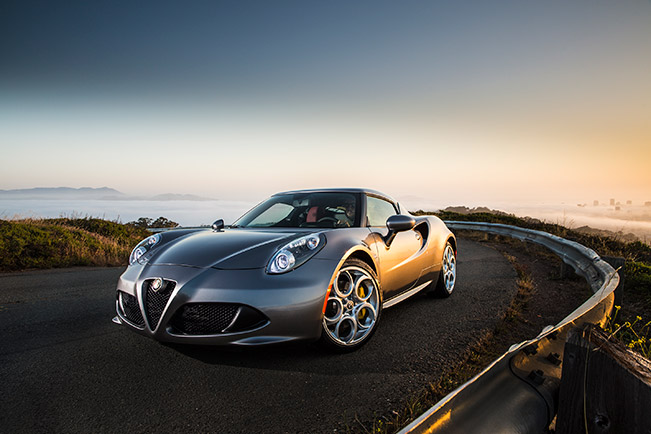 Picking the best car in no matter what category can be quite challenging, especially when there are so many notable models to choose from. Yet, according to Motor Authority, the best performance and luxury car of the year is the all-new 2015 Alfa Romeo 4C.
The all-new 2015 Alfa Romeo 4C offers distinctive Italian style; an innovative 1750 all-aluminum, direct-injection, 1.7-liter turbocharged four-cylinder engine, delivering 237 HP and 258 lb. ft. of torque; a class-exclusive power-to-weight ratio due to its state-of-the-art carbon fiber monocoque influenced by Formula 1 and advanced technological solutions.
But what really helps this car stand out and what makes it so special as to win Motor Authority's "Best Car to Buy" award? The answer is simple: everything. From style to performance, the Alfa Romeo 4C flaunts exclusive excellence and dominance. As Nelson Ireson, editor for Motor Authority points out; "The Alfa Romeo 4C is beautiful, exotic and incredibly fun to drive." He also adds that; "It's also a tremendous value, offering a carbon fiber monocoque chassis and turbocharged mid-engine layout around the price of much more ordinary sports cars, including some of those it beat out for the award this year, like the Ford Mustang, as well as more luxurious or practical alternatives like the Porsche Macan and Mercedes-Benz GLA45 AMG."
Moreover, not lacking any qualities of a real master in its segment, the 4C does indeed possess 4 Cs for it is classy, creative, captivating and convenient. The craftsmanship of this Alfa Romeo encompasses innovative technologies and systems that are focused on ensuring better performance, quality and driving experience. The more aggressive edge adds up to the appealing sporty look of the car that is essentially embedded in the very nature of the brand.
Source: Alfa Romeo