2015 Alfa Romeo 4C US-Spec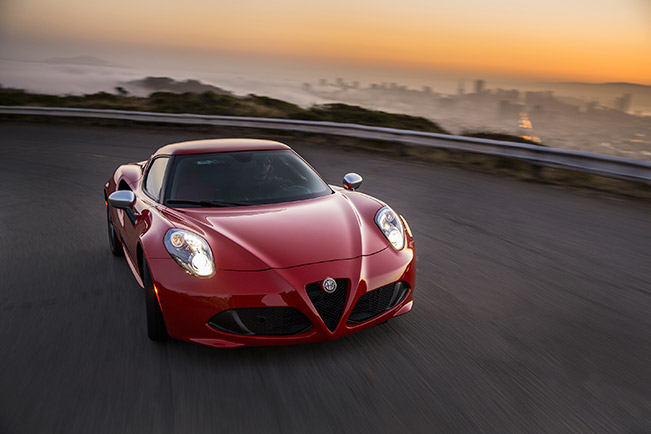 Alfa Romeo 4C US-Spec is already available at the American market with pricing starting from $53,900 and the first deliveries are expected this fall.
"The all-new 4C marks the return of 'the great Alfa Romeos` and represents the purest formation of the brand's DNA with its supercar-levels of performance and innovation, all while focusing on making the driver an integral part and completion of the machine," said Harald Wester, CEO of Alfa Romeo.
"With its technological solutions derived directly from Formula 1, the Alfa Romeo 4C creates an infusion of body and machine, an extension of its driver's soul that is ready, capable and willing to respond and deliver.", he added.
The US-Spec model is slightly different, because Alfa Romeo had to add some aluminum enforcements to the carbon fiber monocoque as well as a new fuel system and modified substructures for impact absorption. The result is additional 155 kg (342 lbs).
The engine is the well-known 1.8 liter turbocharged petrol with 240HP (177 kW) and 350Nm (258 lb-ft) of torque. The engine is connected to a dual-clutch transmission. 0-100 km/h in 4.5 seconds and a top speed of 258 km/h (160 mph). It will average 6.8 liters / 100 km with CO2 emissions of 157 g/km. However, the additional weight will harm the figures, so the expected acceleration is around 5.0 seconds to 100 km/h and a fuel consumption of around 8.0 liters / 100 km (29.4 mpg US).
The Italian manufacturer is going to offer a limited-series Launch Edition of 4C, which is expected to reach the dealerships this summer. The price is a bit higher ($68,400), but the 4C Launch Edition is going to offer a lot more - bi-xenon headlights with LED DRL, carbon fiber rear spoiler and mirror caps and painted brake calipers.
There is also a set of new wheels – 18" at the front and 19" at the rear, a racing exhaust system and carbon fiber interior trim. Other highlights include a race-spec suspension with front- and rear-sway bars and shock absorbers.
Source: Chrysler