2015 Honda Odyssey - US Price $28,975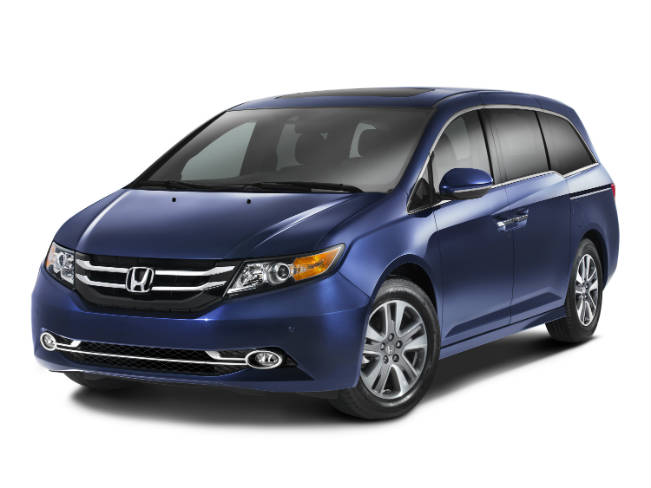 2015 Honda Odyssey is now available on the market with a starting Manufacturers Suggested Retail Price (MSRP) of $28,975. The MPV was the top selling minivan with individual (retail) car buyers in the U.S. in 2013 and in the first five months of 2014. The study based on new-vehicle registration statistics from IHS Automotive.
2015 Odyssey comes with a number of upgrades including the acclaimed in-vehicle vacuum cleaner, the HondaVAC™, featured on the Odyssey Touring Elite. Other upgrades designed to meet the needs of active families included the addition of a standard 6-speed automatic transmission resulting in class-leading EPA fuel-economy ratings, enhanced safety equipment and connectivity features.
The engine range includes a 3.5 liter V6 – 248HP (182 kW) at 5,700RPM and  338Nm (250 lb-ft) at 4,800RPM. The EPA fuel-economy ratings are 19 mpg US in city and 28 mpg US in highway.
There are five trim levels – LX, EX, EX-L, Touring and Touring Elite. A keyless entry system with push button start on EX, EX-L, Touring and Touring Elite allows the driver to approach the vehicle, open the door and start the engine – all without touching a key.
The interior features high-grade meter illumination and interior lighting, chrome-trimmed instrument dials and door handles, an available 7" touch-screen, and an ideally positioned DVD player for the available Rear Entertainment System.
TRIM
MSRP1
EPA MPG3

(city/highway/combined)

Odyssey LX
$28,975
19/28/22
Odyssey EX
$32,275
19/28/22
Odyssey EX-L
$35,775
19/28/22
Odyssey EX-L with RES
$37,375
19/28/22
Odyssey EX-L with Navi
$37,775
19/28/22
Odyssey Touring
$42,030
19/28/22
Odyssey Touring Elite
$44,600
19/28/22
Source: Honda