2015 Toyota Prius V Hybrid: With Great Comfort Comes and Great Performance

2015 Toyota Prius V Hybrid seven-seater comes with fresh looks, more comfort and improved performance. There are two models in the lineup, that will bring incredible safety features and hi-tech gadgets like the Lane Departure Alert and the upgraded Pre-Crash Safety System. Furthermore the Prius V Hybrid will demonstrate and wonderful stability with the adjusted suspension system and  damping force. But let's check out what else the model has to offer.
Exterior

The exterior updates of the Prius V shows some elegance and confidence, thanks to Toyota's latest design concept trends. The vehicle comes with revised front-end features like redesigned upper-grille, more prominent Toyota badge and vertical LED running laps. In fact, the slim headlapms give that distinctive and sharp appearance, that everyone would love, while the gloss black lower grille adopts the well-known Toyota signature trapezoidal shape.
On the other hand, the rear of the vehicle comes with wonderful lamp design and wonderful license-plate trim, redesigned bumper and integrated diffuser.
Furthermore, both the Prius V and Prius V i-Tech include seven airbags, stability and traction control, climate-control air conditioning, rear camera, heads-up display, 16-inch alloy wheel, hill-start assist control, electric vehicle mode and touch-tracer steering-wheel controls
Drivetrain System
Toyota's Hybrid Synergy Drive powertrain comes with a 1.8-Liter Atkinson cycle petrol engine and a speicla 60kW electric motor, that together with the petrol powerplant produces a total of 100 kW. Furthermore, the power of both motors is blended with a special transmission, that helps for the fuel economy, which is incredible: 4.4 liters/100 km (62 miles) and CO2 emissions of 101g/km
Interior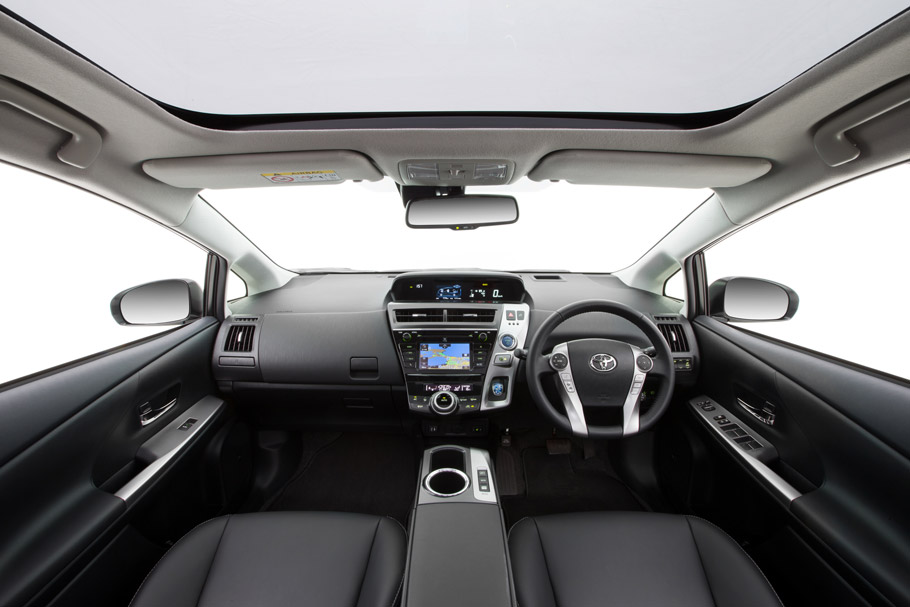 The interior of the latest Prius is greatly redesigned and refreshed and now comes with fluorescent display centre console, multimedia-information display, new steering wheel and seat trims. Some of the visual upgrades include chrome-plated doors, dark silver finish and the slim-line vents of the center console come with chrome finish for even more sophisticated appearance.
And there is also a special "eco-judge" system, that helps the driver to achieve the optimal performance-economics ratio. How cool is that?
Source: Toyota