2016 Chevrolet Colorado Duramax Will Come with GM's Cleanest Diesel Engine

2016 Chevrolet Colorado Duramax, the world's fastest-selling truck now comes with additional upgrade: a turbo-diesel engine. This will make the 2016 Duramax's fuel consumption efficiency even greater. So let's check out what is going on here.
With engine like the turbo-diesel, the vehicle will be producing 369 lb-ft of torque, via 2.8Liter heart. Furthermore, Colorado's maximum trailering capacity rises to 7,700 pounds on 2WD models and is expected to take the lead in its class, when it comes to fuel economy. And one more thing. This is the cleanest diesel truck engine, that General Motors has ever created.
SEE ALSO: Corvette ZR1 C6 Taking Out Two Mercedes-AMGs? [VIDEO]
The 2016 Chevrolet Colorado Duramax will go on sale this fall and will be offered in LT and Z71 Crew Cab models, respectively with 2WD and 4WD. And let's see what else it will offer, along with the new powerplant unit.
Smart diesel exhaust brake system and standard Hyda-Matic 6L50 six-speed automatic transmission are now part of the standard equipment, along with the Centrifugal Pendulum Vibration Absorber. Furthermore, the Z82 trailering package is standard and includes hitch receiver and seven-pin connector, while the refreshed and restyled integrated trailer brake controller is standard on some and exclusive on other models from the lineup.
The 2016 Chevrolet Colorado Duramax will also include a 3.42 rear axle ratio as standard and there is a new, electronically controlled transfer case for the 4WD models.

2016 Chevrolet Colorado Duramax: the engine in-depth
Colorado's turbo-diesel engine will not only bring power and efficiency, but it will also ensure smooth and pleasurable drive. The engine unit offers variable-geometry turbocharger for optimal power and efficiency and a balance shaft for smoothness. Long story short, you will feel comfortable of taming such a beast.
The engine, as said above comes with 500 Nm at 2,000 rpm and 181 hp (135 kW) of power output. This all means, that the 2016 Duramax is capable of maintaining powerful torque at low rpm, while the turbocharged system provides smooth, yet confident performance at any rpm level. And there are some additional engine features, worth to be mentioned: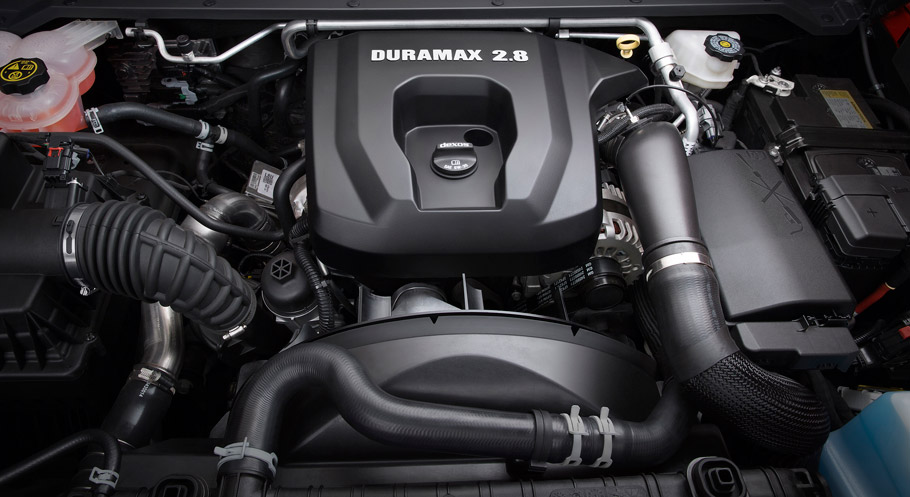 aluminum DOHC cylinder head
Forged steel crankshaft and connecting rods
Oiling circuit that includes a dedicated feed for the turbocharger to provide increased pressure at the turbo and faster oil delivery
Piston-cooling oil jets
16.5:1 compression ratio
Common rail direct injection fuel system
Ceramic glow plugs for shorter heat-up times and higher glow temperatures
Balance shaft that contributes to smoothness and drives the oil pump
Laminated steel oil pan with upper aluminum section that contributes to engine rigidity and quietness
B20 bio-diesel capability.
It looks like GM is trying its best to provide modern and flexible pieces of technology. We all hope, that the latest engine, incorporated in2016 Chevrolet Colorado Duramax will set the stage for even further advanced technologies.
Source: Chevrolet