2016 Ford Focus RS at the Nurburgring [video]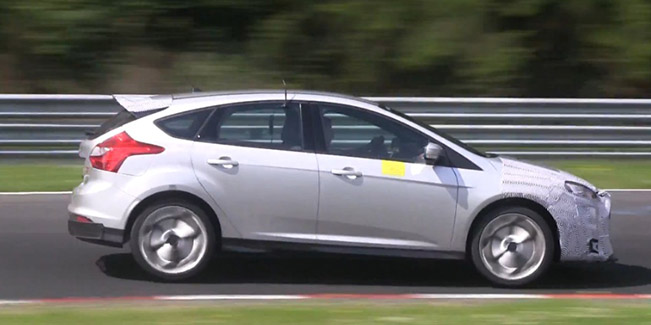 2016 Ford Focus RS has been spied during hardcore tests around the world's most tough race track – Nurburgring. The ultra-hot hatchback is going to come with the typical FWD (front-wheel drive), extremely powerful EcoBoost engine and a lot of improvements.
The range-topping RS model will be powered by a 2.3 liter EcoBoost engine from a Ford Mustang – 330HP (243 kW) and around 450Nm (333 lb-ft) of torque. This is 30HP more power than its predecessor, which is powered by a 2.5 liter turbocharged engine. 0-100 km/h in 5.6 seconds and a top speed of 270 km/h (169 mph). The engine is connected to a 6-speed manual gearbox as standard.
A mechanical LSD (limited slip differential) will take care for the traction. There is also a new RevoKnuckle suspension ensuring perfect handling and minimizing the extreme torque steer. This is a typical problem of the powerful FWD cars, because the front wheels must do two function – steering and power transmission.
The 2016 Ford Focus RS will be priced from around €34,000 ($46,000) and will be available in Europe as well as in North America. The ultra-hot hatchback will face some serious competition in the face of the all-new Civic Type R, which will claim the King of the Ring title from the extreme Renault Megane RS 275.
Stay tuned and enjoy!
Source: TouriClips via Youtube