2016 Jaguar XJ Lineup Demonstrates How a Luxury Vehicle Looks Like

2016 Jaguar XJ now comes with all-aluminum luxury saloon and numerous more premium goodies. Like the LED headlights and the overall stunning looks. Furthermore, materials such the semi-aniline leather and the inlay veneers bring that cozy and luxurious feel inside the cabin. Furthermore, combining the traditional craftsmanship with the latest word of the technology, the vehicle comes not only with great looks and comfortable cabin, but also with incredible pieces of technology. For example the infotainment system. The InControl Touch Pro system grants customers with maybe one of the best navigation systems today. Other wonderful gadget is the audio system: a 1,300W Meridian Digital Unit, that ensures the highest quality of music, combined with the highest quality components.
But the cosmetic add-ons are not the only ones, when it comes to the latest XJ model. Now the driving experience is even better, because of the V6 diesel engine, that offers higher amounts of power and torque and lower consumption and CO2 emissions. Furthermore, the electric-powered steering system defends the well-known Jaguar reputation, when it comes to agility and responsiveness.

The interior cines with fully redesigned grille, that is now larger, while the chrome bladers in the outboard air intakers bring that confident and yet stylish look. The LED headlights are further enhanced with a special system, that provides a color temperature, closer to that of daylight, which means improved visibility and driving comfort. And yes, they save more energy. In fact, the special "J-Blade"  daytime lights are  interesting addition to the XJ series, as they improve visibility and the light itself changes colors, when the direction indicator is opened. Sweet, huh?
The interior has also deserved its attention. The portfolio now gains quilted soft-leather seats with diamond stitching and figured ebony veneer.  Furthermore, the Autobiography model is now available with long-wheelbase body, and 20" Maroa wheels. The inside of the machine is covered with unique leather seats and contrasting stitching, rich oak inlay veneer and illuminated stainless steel treadplates and air vents. The rear seat place is actually filled with individual seats, that come with massage function and of course an entertainment system with two 10.2-inch HD screens.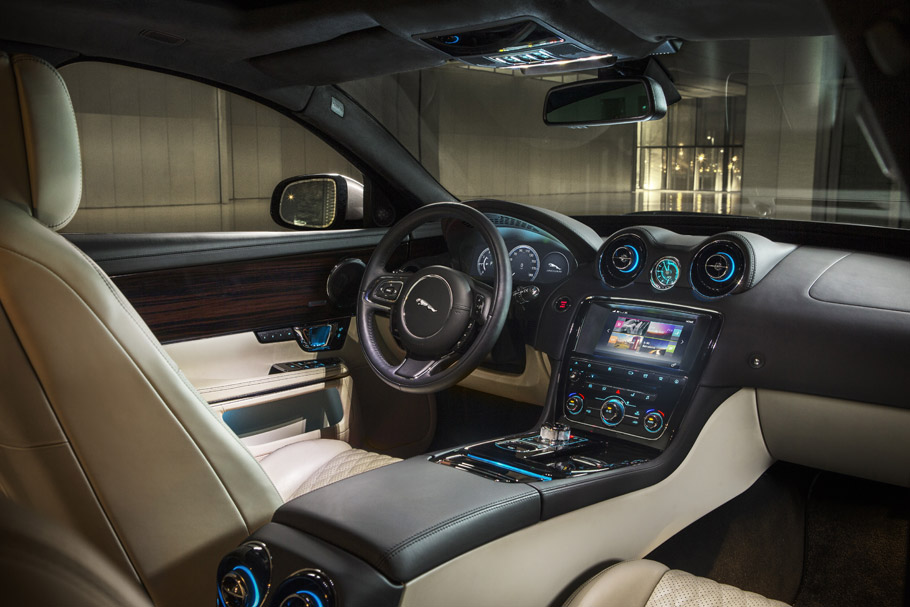 The XJ range will offer XJ Luxury, XJ Premium Luxury, XJ Portfolio, XJ R-Sport, XJR, XJ Autobiography. Furthermore, the different models will be geared with different powereplants: 300 hp (220 kW) 3.0-Liter V6 diesel automatic, 340 hp (250 kW) 3.0-litre V6 petrol automatic; 550hp (404kW)  5.0-litre V8 petrol automatic.
All the vehicles from the XJ lineup are manufactured at Jaguar Land Rover's Castle Bromwich Plant.
So, what do you think about the latest XJ models?
Source: Jaguar