2012 Jaguar XJ Supersport - The new "Ring Taxi"
For more than a decade, BMW M5 is the official Ring Taxi. It takes passengers around the famous Nurburgring race track driven by a professional pilot. Now, there is a new taxi and it comes from Jaguar. It is based on the latest all-aluminium long wheelbase XJ Supersport with Sport and Speed Pack options.
The XJ Supersport Ring Taxi is powered by a supercharged 5.0-liter V8 with 510HP (375 kW) and 625Nm (461 lb-ft) of torque. It is mated to a 6-speed automatic transmission sending all that power to the rear wheels. 0-100 km/h in 4.9 seconds and a top speed of 280 km/h.
"We've been running a successful Nürburgring driving programme from our Nordschleife engineering test centre now for some time, as it's the very best place to demonstrate the dynamic abilities of the current Jaguar XF, XJ and XK models.", commented Frank Klaas, Global Head of Communications, Jaguar Land Rover.
"Of these models, we found it's the XJ Supersport that most often surprises journalists with its speed simply because they perceive it to be a large luxury car. The XJ is both those things, of course, but its aluminium architecture means it's rigid and lightweight too, which make it a very good car on track. To underline that fact, our engineering team created this special Nürburgring taxi version in which our trained drivers can safely take passengers on very hot laps!", he added.
The new Ring Taxi is finished in matte grey and comes with some upgrades like a new front splitter and a rear spoiler. There are also red brake calipers, gloss black accents and a set of 20" alloy wheels.
The interior features four individual racing seats, each equipped with four-point harnesses and a full bespoke roll cage.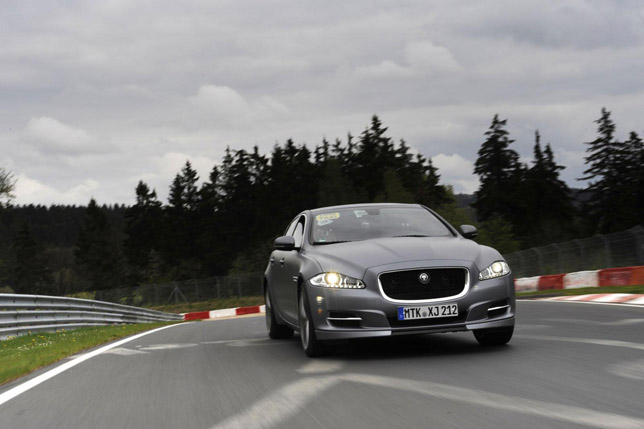 Source: Jaguar