2022 DMC Porsche 992 GT3 "Velocita"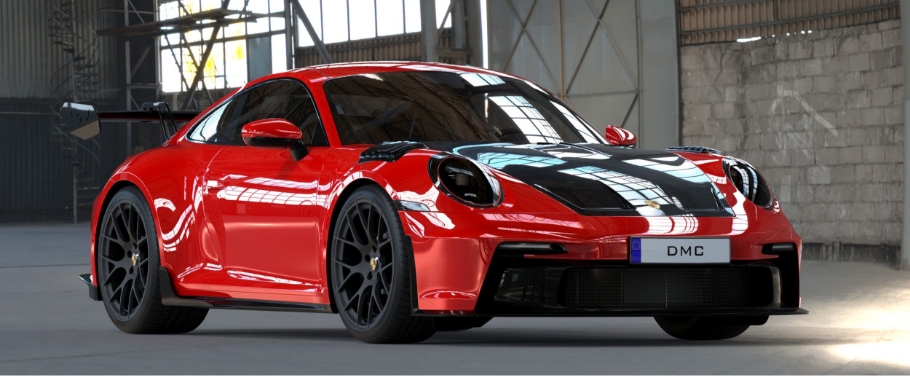 DMC, a German tuning company, has expanded its line-up of tuning packages by introducing the latest 992 GT3 to its offerings, marking its entry into the Porsche market. The company has developed an all-new aerodynamic package for the 992 GT3 models that adds a sporty and stylish look to the car's appearance. The package includes lightweight carbon aero front fenders with wheel arch louvers, wide carbon side skirts, and ultra-lightweight carbon fiber parts that replace the front bumper's inner grill, rear diffuser, and front hood design. These carbon parts are not yet available from OEM Porsche. The most notable feature of the package is the massive 175 cm rear wing that is FIA conform and TUV certified. The design of the carbon parts is inspired by GT3-RS lines, providing the car with an aggressive appearance.
According to DMC, the company aimed to offer its customers a chance to experience the GT3RS appearance without compromising on comfort. The use of DMC's Aero-Kit allows the regular GT3 to achieve a similar or even better look than the GT3RS. The carbon parts provided by DMC replace the original components and reduce the car's weight, providing a weight advantage. For example, DMC's version of the front fenders and larger wing can be installed with the GT3's original connection brackets. The carbon rear spoiler profile has a new and distinctive design with DMC lettering, and the wing end plates are enlarged in the driving direction and downwards to create a striking racing look while maintaining the vehicle's aerodynamic balance.
DMC's carbon kit for the 911 GT3 allows car owners to customize the kit's parts to match their vehicle, with the option of matte or high gloss visible carbon fiber. Furthermore, DMC has also introduced a new sports exhaust system made of titanium for the Porsche 911 GT3 models. This valve-controlled sports exhaust system by ZESAD GmbH in Germany produces a sound festival that enhances the car's performance-oriented driving experience. The exhaust system is specifically designed for the Porsche 911 GT3 and GT3 with the touring package.
In addition to the carbon kit and sports exhaust system, DMC has developed a new lightweight forged wheel named DMC Velocita. The engineering team has designed a new directional forged wheel with various surface finishes customized for each vehicle. The wheel size for the Porsche 911 GT3 is 9.5 x 20 inches at the front and 12 x 21 inches at the back.