5-Series Electric by BMW Brilliance
BMW has teamed-up with its joint venture partner Brilliance China Automotive Holdings Ltd. to unleash a completely new concept vehicle at the display of the upcoming Auto Shanghai 2011 – BMW 5 Series Electric Vehicle.
Representing a prototype of a premium-segment plug-in hybrid sedan, the soon-to-be-premiered 5 Series Electric Vehicle by BMW Brilliance Automotive is based upon the long wheelbase version of the BMW 5 Series Sedan, developed exclusively for the Chinese market.
The new ride is aimed at delivering passengers and driver the renowned qualities of the true 5 Series Sedan - ride comfort, luxurious ambience and interior space, blended with hybrid drive set-up, which combines a  combustion engine fitted with  BMW's TwinPower Turbo technology and an electrical motor. This innovative concept also includes special battery technology that can be easily charged by a mains power supply.
When powered only by electricity, the BMW 5 Series Electric Vehicle estimates a range of up to 75 km with a constant speed of 60 km/h. Backed by the combustion engine, an extra range of minimum 400 km is immediately offered.
According to BMW Brilliance Automotive, this high-end plug-in hybrid sedan will get in production in China in 2013.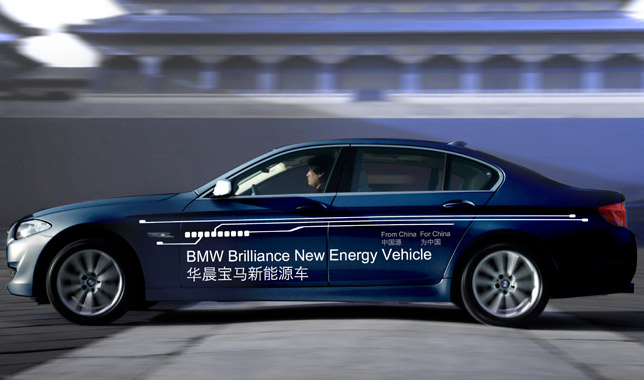 Source: BMW