Abarth Introduces 695 biposto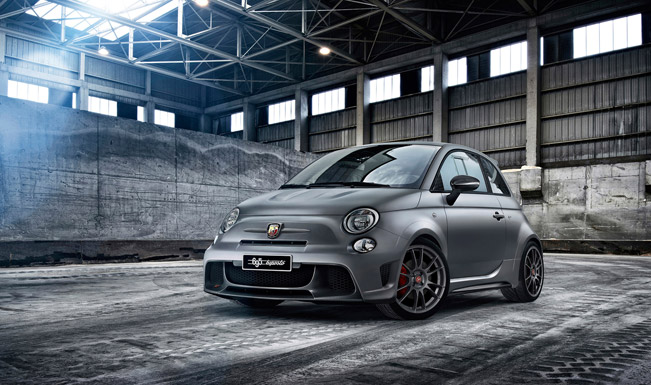 Abarth 695 biposto is definitely a very special car. And note that it is not a "Limited Edition", but comes to offer exhilarating performance blended with unique style. The car weighs just 997 kg and is driven by the 1.4 T-Jet engine. The unit is capable of generating 190 hp (140 kW), thus helping the biposto cover the 0-100 km/h acceleration sprint in only 5.9 seconds and reach a top speed of 143 mph.
Furthermore, the unit is coupled with a gearbox that features dog rings with controls and disc and clutch self-locking differential that were straightly derived from racing. In addition, driver's interface includes an all-aluminium turret with H-configuration gear selection.
In other words, Abarth 695 biposto is all about racing. Street legal racing. An intercooler is positioned at the front with specific pipes inspired by race cars. Next, dynamic aspiration filter casing with carbon finish by BMC were also added, as well as air intake devices and dual-stage exhaust system with titanium tail pipes by Akrapovic. In particular, when the driver presses the SPORT button on the dashboard, the exhaust valve completely opens and this contributes to improved performance.
The reliability and safety of the car is ensured by the ABS, ESP and TTC, disc and clutch self-locking differential and the racing-derived Brembo braking system with front floating, ventilated and perforated discs (305×28 mm) and four-piston one-piece calipers (4×38 mm). In addition, the model is also equipped with shock absorbers with hydraulic and height adjustment by Extreme Shox.
For perfect driving, Abarth also gave this exclusive sports car front fixed windows with polycarbonate sliding panels and, lightened 18-inch rims by OZ fitted with 215/35 R18 tyres. To make it even more "racing-real", there's the data logger from MLX included.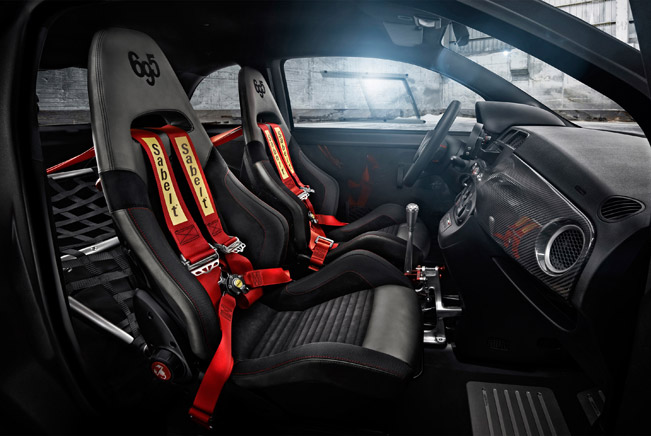 In terms of exterior, we can't miss the exclusive front and rear bumpers, side skirts, wheel arches and spoiler that are more pronounced and muscular, and are enhanced by carbon inserts. The exterior color of this model sports brand-new textured-effect Matt Grey paint finish.
Additional accents are provided by the titanium finishes for the front bonnet trim, door handles and tailgate and rear handle. The titanium is also visible at the hub caps, wheel bolts and water, oil and fuel caps. The bonnet has a specific design with two bumps and is made of aluminium, while the mirror and post covers are made of carbon.
The carbon material makes the link between exterior and interior. Inside it is to be found on the dashboard fascia inserts, rearview mirror, and handbrake. The racing spirit of the 695 biposto is also visible in the rear titanium roll bar by Poggipolini.
At the rear there are no seats. An 'anti intrusion' net for securing luggage and the four-point seat belts are also attached to the roll bar. The upholstery comprises of electro-welded Alcantara and titanium-coloured leather with new colours and finishes. The door handles and oddment net enhance the front door panel.
Source: Abarth