AC Schnitzer cover design for the BMW i-Drive system
Enter your destination while keeping the road in view or changing the vehicle configuration - it's all possible at any time with the BMW i-Drive system. Using the central controller, the driver can easily select i-Drive functions with one hand.
And operation becomes even easier with the AC Schnitzer cover for the i-Drive system. The black anodized aluminium cover has an embossed image of an AC Schnitzer Type IV wheel. So the new design offers delights that are not only visual but also tangible, as the i-Drive functions can be controlled intuitively. The Type IV alloy and racing wheels have already proved their popularity in all vehicle classes, and now set their individual accent in the interior too.
The controller is the central control unit of the i-Drive system in BMW vehicles. Ergonomically mounted on the central console, the rotary pushbutton can easily be operated with one hand by both driver and passenger. And the intelligent operating concept is now further enhanced by the new design AC Schnitzer cover.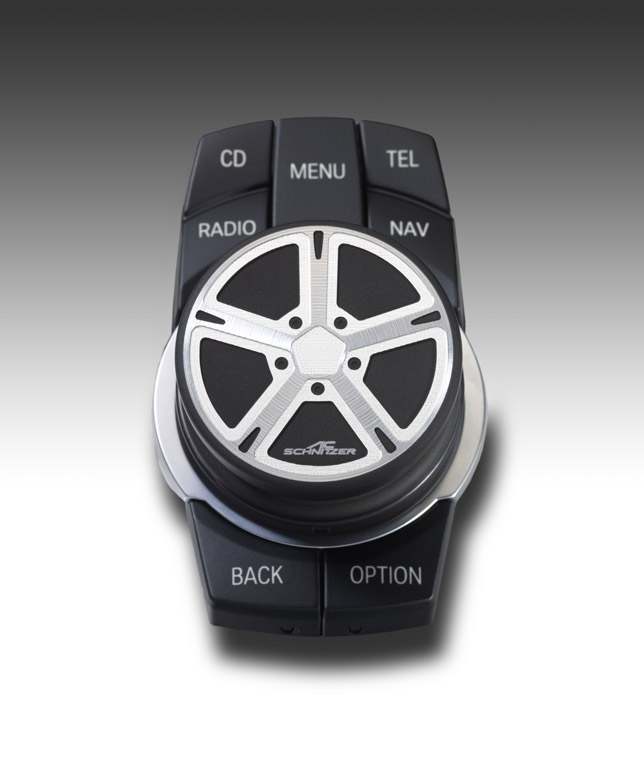 The new aluminium cover from AC Schnitzer is available for all BMW vehicles with the latest generation of i-Drive system. Naturally the familiar AC Schnitzer Aluminium Cover is still available for BMW vehicles with the previous generation of i-Drive system.