AC Schnitzer Tune It Safe Police BMW X4 20i [VIDEO]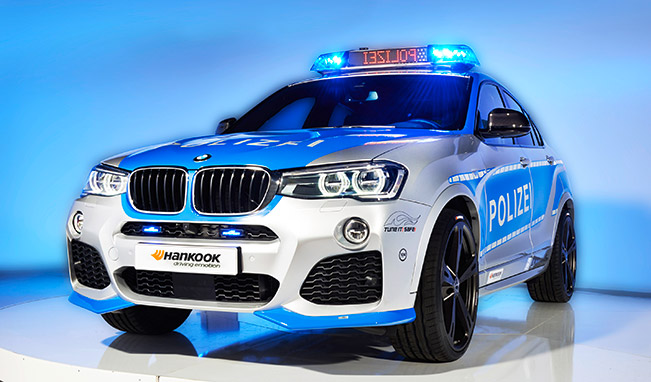 TUNE IT! SAFE! Initiative, by the Association of German Automobile Tuners e.V. (VDAT), celebrates its 10th birthday this year. In order to mark this event, there will be a "Police BMW X4 20i TUNE IT! SAFE! by AC Schnitzer" that will be presented at the Essen Motor Show from 29th of November to 7th of December, 2014. This is the fourth time when AC Schnitzer has been involved in equipping a campaign vehicle for the TUNE IT! SAFE! Initiative.
The TUNE IT! SAFE! variant BMW X4 20i by AC Schnitzer will receive a performance improvement from 184 to 245 HP. The vehicle catapults from 0 to 100 km/h in just 6.7 seconds while on longer pursuits it takes only 17.5 seconds to boost its speed from 80 to 180 km/h. The top speed limitation is that of 212 km/h but it still does not prevent the BMW X4 to demonstrate some remarkable performance.
The Police BMW will be equipped with AC Schnitzer front spoiler elements, rear diffuser (both for vehicles with M-Technik pack) and AC Schnitzer carbon mirror covers. With its suspension spring kit the vehicle is lowered by around 30 mm (front) and 25 mm (rear).
Furthermore, there is also an  AC Schnitzer silencer with 2 chromed "Sport" tailpipe trims each side in right/left combination which are integrated into the rear diffuser. In order to warn other drivers and pedestrians of the approaching police car, it uses the special police "RTK 7" signaling system and flashing lights from Hella. The stylish interior of the X4 is enhanced by aluminium pedal set, aluminium foot rest, keyholder and velours floor mats.
Finally, the AC Schnitzer Type V forged alloy wheels in Anthracite, along with Ventus S1evo tires in 265/30 R 22 from Hankook, answer for the on-road stability and safety of the police BMW X4 20i.
Cool, isn'it it? For now, though, it is just a concept.
Enjoy watching the first video of the Police BMW X4 20i TUNE IT! SAFE! by AC Schnitzer!
Source: AC Schnitzer Video Source: AC Schnitzer via Youtube