2014 Acura MDX Is Made For Mankind [VIDEO]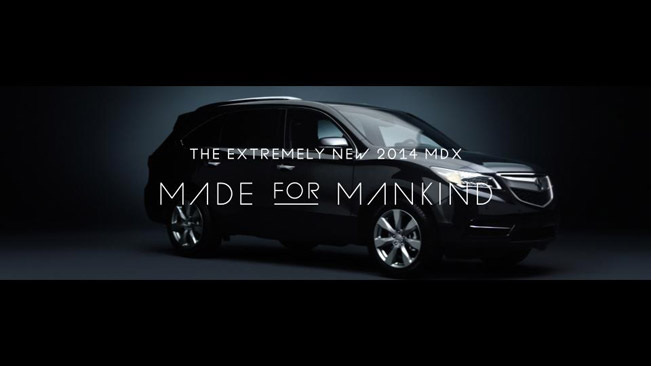 2014 Acura MDX debuted in March at the 2013 New York International Auto Show. Today the brand unveiled a new multi-channel advertising campaign for the all-new SUV, which is entitled "The Extremely New MDX - Made for Mankind".
The advertising campaign puts emphasis on the full technical transformation of the MDX and in addition, it centers around the concept of "Made for Mankind". The latter highlights the unique engineering and design philosophy at the heart of all Acura vehicles, which lies in the synergy between man and machine.
Acura aims to showcase what makes the MDX different from other vehicles and how it harnesses technology that connects the Acura driver to the car, to the road, and to the world around them.
Furthermore, there will be three distinct video concepts as part of the campaign. First, the "Human Race" represents the anthem spot evoking Acura's dedication to creating vehicles performing in harmony with the driver.
Secondly, "Re-Invention" shows the way MDX has been completely re-thought and enhanced to the point that the only remaining component of the previous generation model is a small metal bracket.
At last, "Choose" puts a highlight on the 2014 MDX's all-new Integrated Dynamic System (IDS) with three driving modes: Sport, Normal and Comfort. The IDS adjusts steering effort, throttle response, SH-AWD performance and Active Sound Control in order to better to suit the driver.
2014 Acura MDX will go on sale by the end of the month. The vehicle is built on a completely new platform and it offers excellent ride comfort, more versatile and luxurious cabin, enhanced fuel efficiency, advanced connectivity and great dynamic performance.
Source: Acura