AF Corse STP Ferrari F458
A month after the scoring points in the first two rounds of the FIA GT3 Europe Championship in Portugal - Dan Brown and Glynn Geddie with AF Corse STP Ferrari F458 lined up at the weekend on the newly-configured Silverstone Grand Prix circuit for the two gruelling one-hour follow-up races in the series.
The youngest drivers have contract with Italian AF Corse Ferrari racing team, and are sponsored by legendary fuel additives brand, STP, Apex Tubulars plus car styling company, Brown & Geeson, to drive the competition derivative of the Ferrari 458 supercar, prepared by AF Corse in Piacenza, Italy.
There was a mechanical problem at the mandatory driver change-over on Saturday. Still, the team set their sights realistically on a podium finish, if not victory itself. But in race two, Dan put the disappointment behind him, again lapping amongst the fastest, to charge to a great fourth place overall with team-mate Geddie.
"It was good to leave Silverstone with more points under our belt. It's a super-tough championship, and I'm proud to be one of only seven British drivers in the series, and hugely honoured to be driving for the prestige AF Corse Ferrari racing team…and there couldn't be a more exciting way to learn a bit of Italian!", commented Dan Brown, after the race.
" I think we can be satisfied with P4 and our consistently strong pace all weekend was very encouraging, so we will keep pushing and hopefully bring home a podium at the next rounds of the series, at Navarra, Spain on July 2/3.", Glynn Geddie added.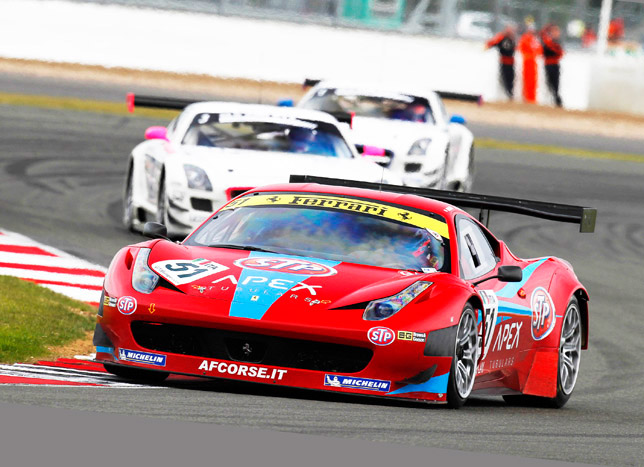 Source: STP