Alfa Romeo Brera "Italia Independent" Unveiled
Porto Cervo (Olbia) provided a stunning backdrop for the unveiling of the Alfa Romeo Brera "Italia Independent", a new Limited Edition version of 900 that is due to go on sale first in Europe and then in Japan and Australia. It will be available to order from September in Italy, with a list price starting at € 32,200 euro (on-the-road price) for the 2.2 JTS Selespeed version.
The world can catch a first glimpse of the Alfa Romeo Brera "Italia Independent" throughout the summer at "YOU", a new sushi restaurant and lounge bar overlooking the square in Porto Cervo and the lovely old harbour.
This original Limited Edition of the Brera came about as a joint venture between Alfa Romeo and Italia Independent, a brand that operates within several goods sectors to package Italian style and innovation for a global vision. For Italia Independent, "innovation" also means the use of new materials, such as Kevlar, DuPont's Cordura, Gore-Tex or carbon, teamed with fine fabrics and materials such as linen, Loro Piana cashmere or cellulose acetate to obtain new slants on classic products.
In the same way, Alfa Rome designs and builds cars with state-of-the-art mechanics and engineering, featuring contemporary lines and shapes, that embody the concept of design in motion and emphasise the qualities of comfort, sportiness, elegance and power intrinsic to the Brand. This industrial philosophy is underpinned by Alfa Romeo's extraordinary legacy of cars, designers, races, engines, style and innovation; a constant presence throughout the technological progress and sporting events of the twentieth century.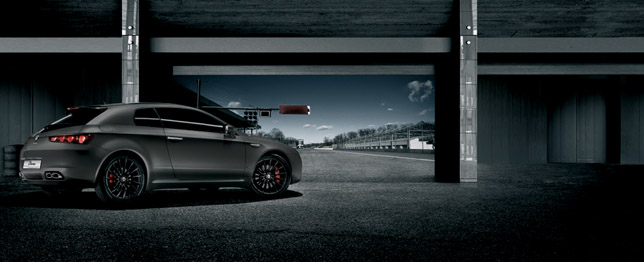 It must be emphasised that the Alfa Romeo Brera "Italia Independent" is the first standard-production car to offer opaque paintwork (Titanium) over its entire body. This exterior feature is further enhanced by new 18" alloy wheels with an opaque black turbine pattern and some aluminium features, including the fuel cap, red-painted brake calipers and new "Italia Independent" logo on the car's rear.
The same attention to detail is evident inside, as is borne out by carbon fibre inserts (on both the dashboard and sporty steering wheel in black leather with red top-stitching) and brushed aluminium plates, personalised with an "Italia Independent" logo on the front seat head restraints. Still in a quest for maximum sportiness, the instrument panel of this original car features round red frames plus an aluminium pedal unit and foot-rest. In the same way, the seat trim and door panels are in the deepest black. Poltrona Frau black leather upholstery with red top-stitching is available as an option.
The Alfa Romeo Brera "Italia Independent" can be selected with 185 HP 2.2 JTS or 260 HP 3.2 V6 engines, both combined with 6-speed gearboxes (according to the engine, these may be manual, Selespeed or automatic Q-Tronic). The new version can also come with sophisticated Q4 four-wheel drive, which is exclusive to the 3.2 V6 version.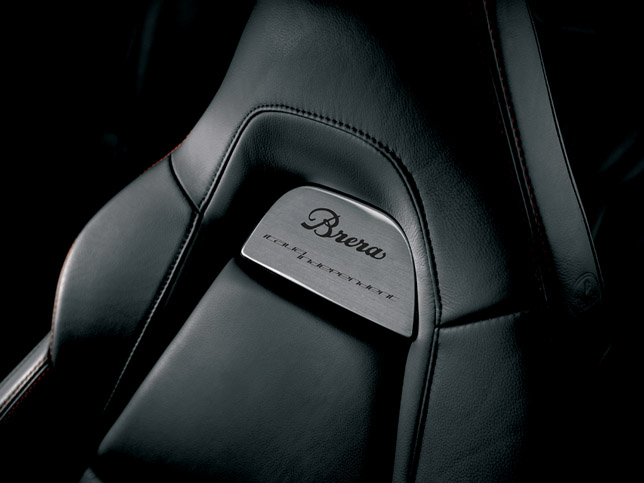 The Alfa Romeo Brera "Italia Independent" also offers a wealth of standard equipment: VDC with 7 airbags, automatic dual zone climate control system, CD/MP3, cruise control and fog lights. Customers can naturally personalise their car from the numerous options available, including xenon headlights, parking sensors, Bose Hi-Fi system, Blue&Me, Blue&Me Nav and the new Instant Nav navigation system with a map of Europe on a SD card and compatibility with Blue&Me.