Audi R8 Hyper Black by ANDERSON Germany
ANDERSON Germany has released a unique, "HYPER BLACK" enhancing program for the Ingolstadt ultra-sport monster Audi R8, transforming it into a remarkable eye-pleaser with incredible roar and stunning, new performance figures.
As the name of the program hints, the ANDERSON-tweaked R8 has an extraordinary black finish, carbon-made front spoiler lip, side mirror housings, rear spoiler and diffuser. In addition to these elements, the Audi R8 HYPER BLACK also sports a set of exclusive carbon-coated 19-inch rims painted in body color with edging and brake caliper finished in contrasting Racing Orange style.
In the power compartment, the ANDERSON conversion's 5.2-liters engine now delivers 589 horsepower instead of the series 525 horsepower, achieved via a Rennkats exhaust unit, skilful ECU remap and air filter modification.
Inside the cabin, the black line with contrasting orange and carbon-made elements is continued, including a handbrake handle, radio visor, ashtray, seat adjustment handles, door panels, and side panels of the center console and shifter surround. Moreover, the sports steering wheel of the R8 is also finished using visible carbon.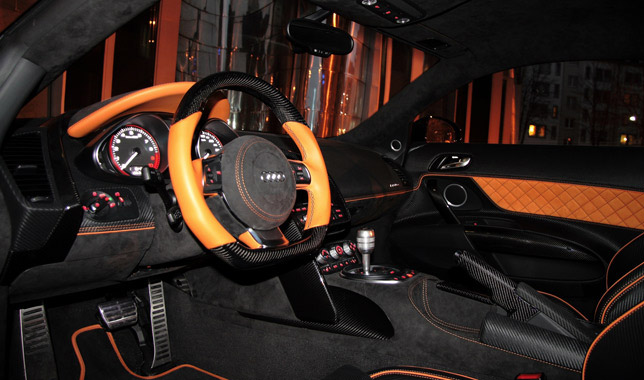 Source: ANDERSON GERMANY