Aston Martin V12 Vantage Roadster spotted on the streets [VIDEO]
Few days after the official release of Aston Martin V12 Vantage Roadster, it has been already spotted on the narrow streets of London. The new sports car by the famous British brand looks even better than on the pictures. And just wait to hear the roaring sound at the end of the video.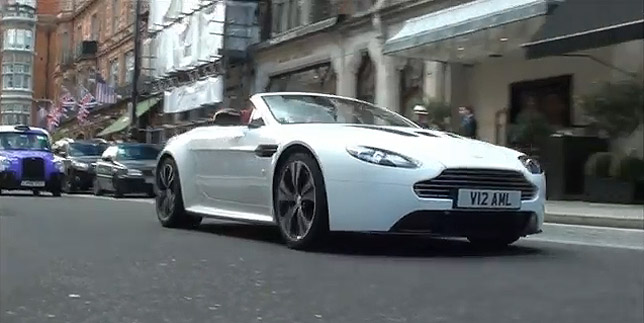 Being a limited edition model, the V12 Vantage Roadster has one of the coolest interiors I've ever seen: a red indulgence of carbon fiber material. This undoubtedly will give the lucky one driving the car the feeling of luxury and uniqueness.
In particular, this Aston Martin's power comes from the naturally aspirated 6.0-litre V12 engine. Mated to a six-speed manual gearbox, it generates the stunning 517 horsepower (380 kW) at 6,500 rpm and a muscular 570 Nm (420 lb-ft) of torque at 5,750 rpm.
Given these facts, I am sure it will be no surprise for you to read that the 0-62 mph sprint is dispatched by it in just 4.5 seconds.
Video Source: YouTube