Aston Martin V12 Zagato
Behold a finished product – images of the Aston Martin V12 Zagato are here. Geneva Motor Show goers next month will witness the debut while production is set to start later this year. But this not much of a car as it is a blend of complex emotions and passion on wheels.
The V12 Zagato has two tasks to fulfill – 1. it is basically purpose built to honor a generation of magnificent GT cars and the historic DB4GT Zagato in particuliar. 2. it also needs a perspective – setting new boundaries with innovative technology and style is a must if the V12 were to be a success. That's why it shares so many components with the stunning One-77. In all essence, the V12 is an advanced HP printer in vintage overalls.
Looking at the V12 Zagato we see the exposed elements of carbon fiber on the front splitter, A-pillars, rear lamp pods, diffuser, door mirror cases and rear wing and we get that instant sense of modernity and purposefulness. Yet the bold new grille formed in a unique three-dimensional composite material mesh brings back the Zagato's famous 'Z' moniker.
A pleasant place to be (a wild guess) would be also the inside of the Aston. Satin-finish carbon fibre on the dashboard and center stack is perfectly set next to piano black accents and satin black rotary switchgear. Carbon fiber sill plaques with 'V12 Zagato' inlaid metal script provide a distinctive finishing touch.
It all sounds rally delightful but there are two problems with it: Price stands at £330,000 ($522,258) so it is pricy. Also it will be extremely rare – no more than 150 will be commissioned.
But when we see how much 'Soul, Beauty, Power' goes into making one the steep price kind of makes sense. The process of creating a V12 Zagato takes approximately 2,000 man-hours to complete. Hand-crafted aluminum and carbon fiber are the main composites that form the whole of the car. Hand-stitched quilting adds to the time and effort but it does leave that feel of passion and luxury usually felt with Italian cars. The Aston Martin V12 Zagato however, is all British and it will worth its every penny.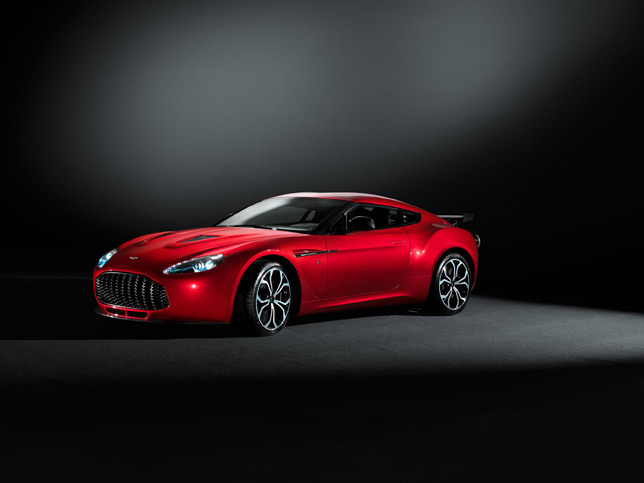 Source: Aston Martin