2015 Audi A3 Sportback e-tron Goes On Sale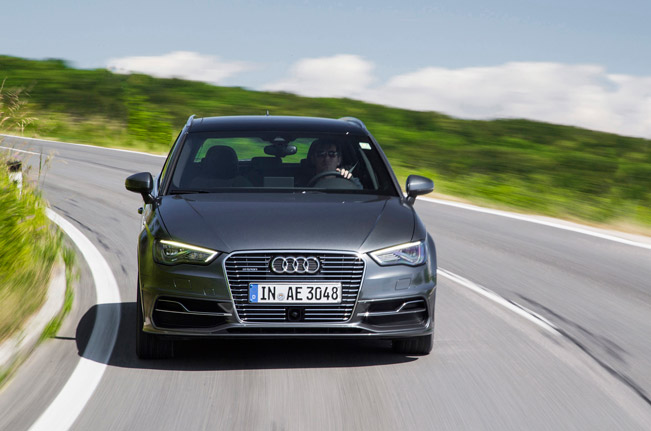 2015 Audi A3 Sportback e-tron is a five-seater, plug-in hybrid, delivering zero emissions while on the run. The car will go on sale from the beginning of August and all deliveries are expected to happen from January next year. The electric power of this vehicle makes it possible to achieve 176.6mpg and CO2 emissions of 37g/km. It has a combined output of 204 hp (150 kW) and 350 Nm (258 lb-ft) of system torque. In addition, the car is capable of reaching the 100 km/h from standstill in just 7.6 seconds. The Vmax here is 137 mph. What is also important to mention is that A3 Sportback e-tron furthermore can travel up to 31 miles under purely electric power and speed of 81 mph, while its total range is of up to 584 miles.
This spacious five-door hatchback is driven by the combination of the 1.4-litre TFSI petrol engine and an electric motor. The modified unit has a peak power output of 150 hp (110 kW) and it is connected by a clutch to a 75 kW electric motor. The latter is integrated into a six-speed S tronic transmission that sends power to the front wheels. As already mentioned the combined power of those two units is 204 hp (150 kW) and 350 Nm (258 lb-ft).
There are several ways for managing vehicle's response. Precisely, four key settings take car for this: the EV mode, which gives priority to electric drive; the hybrid auto mode that is perfect for long journeys; the hybrid hold mode that keeps electrical energy stored in the battery for later use; and the hybrid charge mode, which utilizes the combustion engine as a generator to charge the battery.
When the driver chooses a particular mode it appears on the powermeter's display in the instrument cluster. There can also be seen system's overall output and the battery charge, the operating ranges and consumption figures.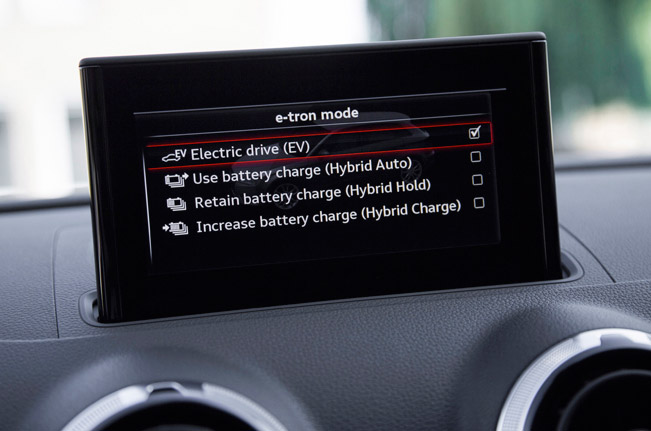 Audi has implemented in this car its ultra lightweight construction philosophy. The result is that the Audi A3 Sportback e-tron weighs only 1,540 kilograms. Furthermore, it features comprehensive additional equipment such as LED headlights and daytime running lights, special 'turbine design' 17-inch alloy wheels, rear parking sensors, light and rain sensors, MMI navigation plus with hard drive-based mapping and Audi connect online services.
There are two charging leads developed for the A3 Sportback e-tron. The first one is appropriate for public charging points, while the second one – for domestic use. The charge status of the A3 Sportback e-tron can be also monitored via smartphone with the e-tron app. More importantly, using a domestic socket it takes four hours to fully charge the battery of the car. When a wallbox is connected or a public charge point is used, the charging time is reduces to two hours and fifteen minutes.
2015 Audi A3 Sportback e-tron has a starting price of £34,950.
Source: Audi